Taking the plunge into acting or directing can be risky. But hey, life is a risk, isn't it? Truthfully there are many other careers in television to consider even if you can't act a lick. Take a look at some of these Hollywood beginner tips to get started with your TV job.
Actress – One who acts on stage, in movies, or on television. A simplified definition but there are literally thousands of young men, women, teenagers and, even parents of infants looking for careers in television so how do you get started in this competitive field? Here are a few tips beginners should know.
Learn How to Act Here >>
How to Get Started with Careers in Television
The world of TV is a glamorous one in many ways. It also demands hard work and long hours at times. When choosing a career in television, it's important to gain the right qualifications needed or work experience.
There are many different jobs within the television industry, all requiring a specific set of skills, both in front of camera and behind the scenes. Performers and technicians combine to bring the shows to our screens.
Acting classes
Many actors and actresses start out going through drama school. There is a lot of competition for roles on TV. In addition to dramas or comedies, there are opportunities to appear in commercials or to do voice-overs.
Some actors have had a lucky break and have advanced from being an extra or background artist.
Extras are in great demand and it's possible to have a semiprofessional career in television after some experience, with some extras going on to speak lines.
Become a TV director
Directing programs is another opportunity that starts with working from the bottom rung and climbing up gradually.
A director may start life as a Story Editor or Script Editor. Directing TV shows, commercials or music videos has led eventually to directing movies in Hollywood.
The bottom of the barrel
Most careers in television however, are gained from thinking in the long term, starting with the humble Runner.
A runner in a TV studio is often a graduate or someone on a work placement scheme. The Runner is there to run errands and generally make him or herself useful.
In the TV news
Presenters can earn a lucrative salary and gain celebrity status, whether in the current affairs or light entertainment field.
Some news and current affairs presenters have entered a career in television from a journalism background. They need to be well presented and cool in a crisis, particularly on live TV.
Sports addicts can use their passion to become sports commentators or presenters. Broadcast journalists often begin as researchers or newsroom assistants, becoming the talent in the studio or as outside location reporters.
Careers in television behind the scenes
There is a large group of people that make it all happen, unseen by the public. Hair and Make Up artists make everyone presentable. They may also work on productions requiring the fitting of wigs, facial hair and bald caps.
They may be called upon to work with tattoos, and to simulate bullet wounds, burns, bruises, cuts and so on. A Hair and Make Up specialist must be knowledgeable about the time period they are working within and how to age an actor.
The Television "techies"
The technical departments require a lot of expertise, including the camera crew. The Camera Assistant is under the Camera Operator who assists the Director of Photography.
The lighting department consists of electricians and senior electricians known as gaffers, under the supervision of the Lighting Director.
Technicians in the sound department also have an important role to play, in the studio and on location. All these disciplines offer rewarding careers in television.
Where Does Your Career in Television Dream Begin?
Finally, your role! Where do you fit in? Find something you are really interested in and get started with a clear cut plan to get there.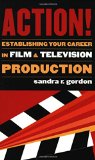 Your desire for one of these careers in television may never become realized until you take that first step to learn. What are you doing toward your TV dream job today?
Filed under: Hollywood