Ford Model Agency Tells What They Look for in a New Model
Ford model scouts say what they look for when finding models
Interviewed as one of the best modeling agencies by Seventeen Magazine is Ford. This well known giant came forward to answer that age old question – What do model agencies look for when they scout new people to work for them?
The video gives some valuable insight; especially if you are just starting out in the network.
About Ford Models
This firm is no doubt one of the very biggest and most sought after model management companies in the entertainment industry.
This video outlines what Ford, and the other major agencies look for when they search for new models.
One representative put it very plainly ..
When you see a picture of a model, there's a certain Wow factor..  "It's not just about perfection."
Next is confidence
A model needs to be confident in her presentation and in front of the camera. Sort of gives you a reason to practice with photographers, doesn't it?
Seeing Models in Action
This quick but thorough video about Ford shows some amazing pictures of new male and female models in this video and I hope you will take something away from this if you are dreaming of becoming a high fashion model in NYC or other major cities in the USA.
Are you ready?
All set to get started yourself? Did you get inspired by the video? Do you have areas to work on before applying to some of these top list modeling agencies?
So, what do model agencies look for in new talent? Watch the Ford video about new faces and find out now.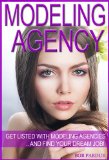 Let us know your feelings below and get even more modeling tips here ..
Hope you enjoyed this video and I look forward to sharing more with you. Please click one of the buttons below to share this modeling website with your friends.
Thanks a Bunch!
Bob Pardue
Filed under: Model Agency Tips