5 Quick Steps to Turn Teenage Modeling Dreams Into Action
This is an exciting business and there are many young men and women working in it with rewarding careers in modeling. Today, I'd like to share five of my teen modeling tips to help you get going with your goals and dreams.
Know What You Want Out of Life
Fun Fun Fun?
I work with models who love to pose in front of the camera and have fun doing it.
That's all well and good, a girl should enjoy her work but there's a difference between having fun by posting pictures online for friends & family and becoming a professional teen model.
This short post will give some tips you really need to know, especially if you are a beginner.
It's no secret that many male and female teenagers find the world of entertainment most enticing, but few really understand how the modeling world works and believe they can make a career happen without any real effort.
Success Stories?
There are some successful teens in the business. One example is Danni mentioned below. ..
Danni Boatwright was one of the most talented and popular teenagers when she hit the market, who successfully continued her career throughout adulthood.
Some girls find it difficult to survive in industry, because they have not kept in touch with the latest trends and more importantly did not develop the art of communication.
Teenagers have hardships to overcome before they are able to handle the pressure well enough to succeed in modeling.
Quick Tips to Get Started
1. Keep Your Family Informed And Ask For Help
Teens often need their parents' permission before enrolling into a modeling agency ( find them at www.bobpardue.com/model/agency ) or taking up a career. Your parents are a great source of advice and you are certainly going to need their advice to make this work.
And, the good agents will not even consider you unless they are involved. The minimum age in most states is 18 years old without permission.
Parents are naturally inclined to look after the welfare of their children, and an important opportunity like this motivates them to seek out the best there is on offer for you as a teenager.
They also have to fulfill obligations as a guardian or parent. Great amount of passion and involvement is required to excel in the world of modeling, and parents motivate you and teach you how to become a teenager model by providing real help when needed.
2. Be Systematic And Organized
Preparing professional or amateur photos will require some time and effort. An agency that first comes across your portfolio gauges the interest you have in the profession.
For instance, photographs clicked by a professional photographer may look much better than those clicked by friends or well-wishers.
Do You Need Professional Pictures?
No, they are not required by most talent agents. Here is a guide (even if they are snapshots) ..
2 Clear Close up Shots (headshots) – 1 straight on and 1 profile without makeup & good lighting
2 Full Body Shots – In swimsuit – 1 straight on and 1 profile
3. Schools & Experience
Agencies may not insist on providing school experiences in the portfolio. However, interesting engagement in acting, debates, beauty pageants, and sports activities demonstrate a positive attitude and drive towards achieving a destined goal in life.
Your latest photographs (above) are usually required by management companies, but those clicked at school mock sessions may actually help them to find a unique look for you.
4. Find The Right Agent To Succeed
It is vital that you spend enough time finding the right agent capable of promoting your interests for an extended period of time.
Experienced agents have tie-ups with different clients & companies, both national and international, and understand requirements. A major advantage is their understanding of your capabilities for modeling assignments even before you are introduced to a client.
Go through portfolios available on the Internet and follow their track records over many years. Successful agents are behind successful models in different fields including runway, catalog and print work.
If they find you are capable of succeeding, they will provide guidance and promote you.
5. Prepare Yourself For An Extended Career
Unless you intend taking up modeling as a part-time job, it is important you prepare yourself for the long term by understanding the needs of the industry, perfecting different techniques and poses, and taking care of your body.
These aspects of personal training begin at an early age.
For instance, exercising in the gym 5 to 6 days a week can begin as an after school project. Avoid junk food and have a well-balanced diet consisting of vegetables and fruits. Parents or dietitians can help in this regard.
Modeling lessons can begin in school. Learn how to become a teenage model early on, get some tips on this website and from other online resources, and your chances will increase to succeed in the profession.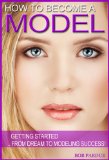 Take your dream seriously. Work every day doing something to accomplish your goals.
Take advice from your friendly photographer and turn your dream into a goal; then turn your goal into action! Write to me when you have a success story to share. I never get tired of hearing them. d:-)
Ready to Learn Modeling? Go Here for More Free Tips >>>
Bob Pardue
If you're a teenager and have always wanted to become a model, here are some tips on How to become a model – all about modeling – tips, info and advice!!! Leave any modeling questions or comments below 😉
Filed under: Modeling Tips