Talent Management Contracts Are Confusing – Learn the Facts First
So, a talent management company has interviewed you, loved your modeling ability, and has now offered you a contract? But you don't know a thing about talent management contracts which is why you don't sign without knowing exactly what you are doing.
Note: I am not an attorney so check with a local – or entertainment law firm if you have any questions about written contracts or agreements.
You are bound to feel excited for a week or so, dreaming about things that are going to happen in the future.
Don't Be Confused by Talent Management Contracts!
If you have no prior experience of dealing with these talent managers or even modeling agencies, you are going to face problem at the time of negotiation. Your professional model career can suffer because of this.
Below are some modeling tips about agencies to help you know how to negotiate whether or not you will get listed with talent management companies and what to look for before signing.
Disclaimer: I am not an attorney nor a legal adviser and I suggest for you to hire one if you just don't understand the paperwork involved in listing with a modeling agency.
As a matter of fact, a good talent manager will consult you (for a fee) to help you in dealing with the model agents when you are ready to talk with them. With that said; Let's get started in helping you learn how to become a model.
Kind of contract you are signing
When it comes to negotiating with a talent management company, you need to be clear in your mind regarding what type of contract you are signing with the agencies.
Generally speaking, there are two types, namely —
With an exclusive model agency listing, this means you are only going to work with your current talent management agency until the agreement period expires.
On the other hand, with the non-exclusive contract, you can work with any agency you want.
Unless you are signing with one of the top people in the country who either works for or can get you listed with the biggest agents such as Ford, Elite or Next Model Agency New York, I would suggest the non-exclusive if at all possible.
This leaves your options open in case other agents want to get modeling jobs for you.
Terms and conditions
Once you get to know more about your contract, next you need to read the terms and conditions that are mentioned in the paperwork.
Before signing with a model agency, it is your responsibility to ensure that the talent or modeling agent only gets a commission from you when he/she directly provides the work.
There may be some companies offering talent management operating in the market right now that will force you to pay commission even when they have not played any role in the work being forwarded to you (such as freelance model work).
Actual commission percentage
You need to take into account the actual commission percentage that is being taken by your talent manager for the jobs you are doing.
As I am writing this piece, the standard percentage is in the range of 12 to 15 percent with some variations.
If the agent is charging you more than 15 percent, it is advisable that you do not sign a contract with them.
If you are dealing with a business that is not recognized, you need to be extra careful.
Check them out, talk to some of their models if possible. You can also find out about them by checking with the Talent Managers Association (www.talentmanagers.org) who lists many of the agents in the entertainment field.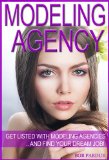 In conclusion, a talent management listing is a binding agreement between you and the manager or modeling agency so you'll want to be certain it is in your best interest before signing. As I stated above – Get Help If Needed, better safe than sorry.
Want to learn more about talent management companies?
Filed under: Model Agency Tips