Following up on the super model series is another girl coming quickly into the spotlight. There's no doubt female supermodel Anna Cleveland is very talented, but there are a few things you may be interested in knowing about this model. We are going to discuss her in more detail.
With that said, continue to read on to learn more about her. Below is a short video presentation of the beautiful and sleek Anna Cleveland by Ruth Hogben I believe you'll enjoy.
Want to learn more about how to become a model? Go here for details ..
Who Is Supermodel Anna Cleveland?
Something you may not know about her is she is the daughter of a 70s supermodel. Her mother is Pat Cleveland. However, Anna doesn't have to worry about being compared to her mother, because she has made a name for herself and has worked hard to develop her career.
A Quick Biography of Anna Cleveland
Anna started modelling years ago, and by the time 2013 came around, she was already on her way to becoming one of the biggest names in the industry. She performed in runway shows for some of the biggest names, including Jean Paul Gaultier, Chanel Haute Couture and Zac Posen.
How Did Anna Cleveland Get Started?
In 2015, she took part in the Giles Spring/Summer show, and this is when her career really took-off. Her performance garnered her attention and approval, and she was working right in front of Yasmin Le Bon and Cara Delevingne.
Just a Few More Accomplishments
Since appearing in the show in 2015, she has gone on to appear in well-known publications, including Vogue Italia, as well as Love and Dazed and Confused.
She has also landed a major advertising campaign for Bottega. The campaign was shot by Juergen Teller, and Teller made use of the unique features that Anna is known for.
Anna Cleveland is represented by Next Models in New York, not to mention other top list modeling agencies in Paris and other parts of the world. The most famous modeling website, Models.Com says about this superstar:
"Anna comes from fashion royalty but this past year stepped into her own spotlight. With features in Vogue Italia, Love, CR Fashion Book, Bottega Veneta and Vionnet campaigns the muse to Zac Posen and Jean Paul Gautier stands on her own two feet as a force to be reckoned with."
As you can see, supermodel Anna Cleveland is an extremely talented female model and she has enjoyed a lot of success in a relatively short amount of time.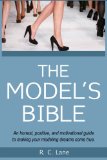 The chances are this particular super model will continue to enjoy ongoing success and she will become even more known in the industry. If you are interested in seeing supermodel Anna Cleveland at work, then take a look online to find out when she will be walking the runway next. Oh, and be sure to leave your thoughts about Anna's modeling career in the comments box below. Thanks and I'll talk to you again soon.  – Bob Pardue
Filed under: Supermodels