5 Questions New Female Models Ask

In my many years spent as a professional modeling portfolio photographer, I discovered that many new female models just did not have a clue as to where and how to get started in the business.
Learn More Modeling Tips – Click Here
About Beginning Your Female Modeling Career
And, those that did – had no real plan of action for getting started.
This is the main reason I decided to take it upon myself to create a book about modeling for beginners so that those interested in modeling could have some questions answered and get some real advice they could use instead of just hype that so many promotional sites offer.
These questions are truly for new faces who are beginning so save this page and come back to it for review.
Here Goes!!
Question Number One: Your Physical and Mental Health
How healthy do you need to be? Let me tell you, this is important!! The modeling agencies look for girls who have healthy bodies, white and straight teeth, are tall in many cases, healthy hair and great looking skin.
The good part is, you can fix many of these things – all except height which I will explain in other lessons.
Question Number Two: Should I Quit My Day Job?
NO!! At least not in the beginning stages. You should try modeling maybe part time as a beginner to see if you really like it and to find where it leads you in way of a real career.
Keep studying other fields to rely on if your female model dream does not quite happen the way you expected.
Question Number Three: My Parents are Stick in the Mud! Should I listen to Them?
YES!! Especially if you are a teen get advice and help from your parents. Without their support, it will be very difficult to get started – and could be risky as there are many people waiting to take advantage of new female models who are beginners and not savvy to the ways of the entertainment world. Which leads us to …
Question Number Four: How Do I Select a Good Modeling Agency?
There is not a simple answer except to compare, talk to professional models who already have contracts with agents, check with the BBB, etc. to make sure the company is not a scam – there for the sole purpose of taking your money.
Now, if you have the height and other requirements to apply to top agents in New York like IMG, Ford or Elite, then you are pretty much okay.
For females looking at smaller local agencies check references and proceed more slowly. Go back to question number 3, get your parent to help in your selection.
Question Number Five: I am Not a Professional Model – Should I Act Like One?
YES!! Always present yourself in a professional manner. This is a mistake many beginners make when first starting out.
They send a quick email along with a terrible looking and out of focus snapshot asking an agency if they have a chance to become a model. The answer is usually no.
A professional will check out the management company's information online or call to find out who the contact person is, the type models they represent, etc.
Then, they will contact the agent in the way stated on the website, with great pictures, prepared mentally and physically for the interview. Chances of becoming a model just increased drastically!!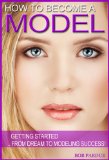 Now, this is not everything – just enough for new female models to get hungry for more information which they can find in my online modeling tips (which you may be already receiving). It's free so why not give it a whirl?
Now, do something! See you next time!

Bob Pardue
Filed under: Modeling Tips