Don't Just Quit! Take Time to Consider a Promotional Modeling Career
You've seen 'em! I'm talking about those beautiful and handsome models at the race, at the big game, or working at the last trade show you had to attend for your company. This means your promotional modelling career is here to stay.
And, you might want to check with model agencies to see if they have jobs for you!
What IS Promo Modelling Anyhow? Could promo modelling be something you'd be interested in doing?
Can You Imagine a Promotional Modeling Career?
This video shows a little more info on what being a promotional model is all about. Watch and enjoy!
This tutorial covers a different type of model. Learn how to get started with a promotional modeling career if you are not where you want to be. Promo modeling could be the answer if you are not into runway.
Become The "Other" Model with a Promotional Modeling Career
Many of the female models who have come through my photography studio are aware of only a few different types of careers and employment opportunities.
You know 'em! These types are high fashion modeling (magazine type), runway and catalog. But, what about the "other" model?
I'm speaking of taking the alternative route into promotional modeling jobs. You might be surprised that you really like the promo field once you get a taste for it.
I've included this short video to let you see what promo models do and how to get started.
What is Promotional Modeling? How Can I Start a Career?
Promotional modeling is often referred to as promo, trade show or event modeling. Jobs in this field might include handing out business cards, brochures, etc. at events, outside a store, in the mall, etc.
Or, you could be running a booth at an industry trade show.
This may not sound as appealing as the glamorous catwalk but you can earn some good money when you accept these types of promotional jobs and you may even get to accept a Capital One offerings when you have some money to put in the bank. Some young women actually make promo modeling their career choice.
Getting Started in a Beginner Promotional Modeling Career
Many girls and guys, especially teenagers, have stars in their eyes.
They envision themselves with their picture on the cover of a major magazine or walking the NYC runway for Elite or IMG modeling agencies.
But, in reality, very few ever realize this dream. As you will see in this beginner promo modeling section, there is hope for the rest who want to work as a model.
Requirements for promo models
First and foremost, you need to look in the mirror and make sure you are an attractive person (not like the runway type). You'll need a great smile, good complexion and hair.
You don't have to be super tall but the average height of a promotional model is about 5'6″,
What you'll be expected to do
As a promotions model, you'll normally be expected to either handle a booth at a trade show. Or, maybe you'll give out brochures at civic events or sports arenas.
You might be asked to get people to try samples of products for companies in hope of building customers. This some selling might be required.
How Much Do Promotional Models Make?

The pay is mostly hourly and can range from about $12 to $22 per hour dependent upon the company and your experience.
Promotional Modeling Agencies
Apply to reputable modeling agencies in your area and tell them you are interested in promo modeling. If they don't handle this type of talent, they might be able to direct you.
Where Are the Promo Model Agents?
You'll find that many talent companies throughout the USA, although they may not advertise themselves as promotional modeling agencies. Many offer employment to the right models.
For instance if you live in the south, you can check out Arkansas modeling agencies for promo jobs. Take time to contact and see what they have to offer.
If you are willing to start here, the jobs could open doors to other modeling advances. Don't sell it short!
Take Action – Start Your Promotional Modeling Career Today!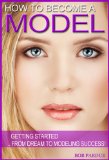 To get your promo modeling career going you have to get going now! What do you plan to do today?
Like these tips? Get on our newsletter and Learn How to be a Promotional Model
If you really want to become a model, this is just one other alternative to the very competitive fields. And remember, you are in this to get a job and go to work, right? Come by to see me again soon! ~ Bob Pardue
See another promotional modeling career video just to be sure.
Filed under: Modeling Tips