How New Female Models Promote Themselves in the Freelance Modeling Field
Are you a beginner female with some modeling experience but not sure how to get started in the freelance world? Want to promote yourself as a model but keep finding roadblocks that keep you from your dream?
GO HERE to Learn All About Modeling
How to Promote Yourself as a Model and Get That Job!
These tips are for beginners who want to get jobs and get in front of the camera and some of the methods can be used by the male also.
There are several ways to do this. The most obvious is getting accepted by a legit female modeling agency. But, some models would rather promote themselves instead of listing through an agency.
Nothing wrong with this but it does require more work on your part.
Model Agency Advantages
If you are signed with a modeling agency, they promote the business, they talk to the clients in your behalf, they set up the shooting dates, they take the heat if you don't make it to the session, etc.
These agents cover a wide variety of talent and promote people, males and females of all ages and sizes in the areas of high fashion, commercial, runway, promotional or trade show,
But, there are many girls who are "loners" in the network of modeling and want complete control over who they work with and why.
Getting started as a freelancer
There are several ways to promote yourself. I will try to mention some ways for you to promote your modeling talent and a step by step format to follow.
The beginning of a modeling career
In self promotion, the first step to take is putting together a professional portfolio. Once you've got your pictures, it's a good idea to have comp cards and business cards made.
Business Cards – Your card should have as much information on it as possible. It's not expensive to have extra words listed and this way you can include things other than the name and phone number.
Add a photo for effect!
For best results and at just a little extra cost, I would suggest putting your photo (preferably a headshot) on the front of your card.
People don't tend to throw away photos as quickly as they do just cards. Below the photo (or on your card if you choose not to include the photo) you should list ..
Your name, contact phone number, email and don't forget to put your web address on the card
You may want to also include in bullet list of your attributes (i.e. height and weight), special skills and the type of modeling you specialize in (your modeling strength area)
Model Composite Cards
You'll definitely want to get composite cards (comp cards) made to hand out to possible clients or agents and to leave with clients or some of the female modeling photographers you work with.
A comp card is one of the least expensive pieces of printed promotional modeling material but packs a big punch in saying, "I'm a professional model".
Setting up Comp Cards
When you check online, you'll find all sorts of styles and variations of composite cards. But, the standard for new female models is normally the 6×9″ two-sided card. Here is what to put on each side.
Front РPhoto covering the complete front of the card  (I suggest a good, strong head shot here) along with your name in bold letters.
Back – From four to six photos showing different looks (indoor and outdoor) in a variety of outfits with at least one good body shot (swimwear or tight-fitting clothing).
The back of the card will list important information about you and your stats including …
Contact information (Who to contact, phone, email, web address, etc.)
Height
Weight
Bust size / cup size
Waist size
Hip size
Dress size
Shoe size
Hair color
Hair length (short, shoulder length, long)
Eye color
Type(s) of modeling jobs preferred (i.e. commercial, fashion shows, catalog, promotional, etc.)
No need to feel overwhelmed with the details of getting your comp card ready. There are many companies online such as ABC Pictures who have versions and templates online which will help you every step of the way.
Remember too that there are many different versions of comp cards so it's all a matter of personal preference as to which style you choose.
A Website?
When it comes to websites, I could probably write complete chapters on the subject but I will try as best I can to simplify this part.
Taking the free choice is not always best
Should you pay to have your own modeling website created or go with one of the free web listing services online?
Your choice in the type of web promotion you do for your female modeling career depends upon your level of experience and the amount of budget you have to work with.
If you are, in actuality, an eccentric teen millionaire and are just pursuing modeling out of boredom, by all means hire a professional web designer and start from scratch to build a website that other models will be in awe of!
But, even if you go this route, there's the promotional costs and time to think about; time that could be better used to improve your modeling abilities and make contacts with clients who need you for their photo projects.
I personally feel that it's better to start but using a few of the online services (paid and free) to get your name out there. You can do a search and find many listing places but two sites that seem to have lots of buzz at the time of this writing are
..Model Mayhem
This modeling website for males and females offers a basic free package or a paid premium package. Either way, this is a less expensive way to get your feet wet and find out if you've got a look which is in demand. You can find them at ModelMayhem.Com .
About putting your new modeling photos online
IMPORTANT: Remember to stay safe when placing your photos online. Don't provide too much personal information about yourself or location until you've thoroughly checked out the person who is contacting you.
** This is especially true for teenagers and girls in the 18 to 25 year range.
If you are a teen girl or boy under 18 years of age, put your parents' email address in the contact section and have them deal with any incoming offers.
Always Use the "Buddy" System
Never ever meet a model photographer or potential client alone. Take a parent or friend (preferably male) with you until you are completely satisfied that you're in a safe environment. I cannot stress this enough!!
More Than One Way to Become a Model
There are other ways to promote yourself on or off the Internet such as contacting local upscale clothing or department stores for fashion shows or catalog work, jewelry stores if you offer hand modeling, hair salons, etc.
If you subscribe to my modeling newsletter Рyou will receive more female modeling tips like this one along with a free bonus so this is worth your while if you are absolutely serious in starting a career.
Don't Stop Here
This is your starting point in becoming a real female model. These same principles work no matter if you are seeking promotional modeling agencies or you want to get propelled to the runway.
Doesn't matter because any type will require a little work if I may be candid. See if you can come up with more creative ways to promote yourself as a professional model.
Never Stop Learning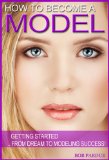 Lastly, if you plan to join the ranks of new female models who get the work, practice daily and learn the trade in a consistent manner – the jobs just won't come otherwise.
Remember, nothing works unless you do!! Good luck and get started today!
About this video from the Ford model, As you can see, the modeling industry is a tough, super competitive industry so you have to keep your self marketable ūüôā Here are some tips on how to keep yourself fresh and current.
I hope this lesson about how to promote yourself as a model will get your motor running and prompt you to take action. Set up some simple, daily goals to start your modeling career today – nothing happens until you act! – Bob Pardue
Filed under: Modeling Tips