Reinventing Your Looks with Permanent Eyelash Extensions
Learn from this quick video how to apply permanent eyelash extensions. You can do this at home and save tons of money while having beautiful eyelashes as a bonus! After I put up the story of how models get long eyelashes I had requests to give more eyelash tips. This one gives temporary and permanent solutions for your eyes.
More beauty tips? Go here ..
Do your eyes have it? They Can with Permanent Eyelash Extensions
Having wonderful eyes with full, and long lashes can capture any person's attention and gaze.
The eyes define the whole face and what increases the effect of your beauty are your lashes.
There are actually very few women who are blessed with full eyelashes. So for most women, this is a coveted prize.
A change of fashion habit
Nowadays, when a woman wants to feel good about herself, she optimizes her look by changing her fashion habits and reinventing her looks. The change usually starts with the face particularly the eyes.
And a makeup transition will not be complete without having full, curvaceous, and long eyelashes. So most women go with extensions. These can range from temporary, semi-permanent and permanent ones.
The short term solution

Temporary solutions include using fake eyelash extensions that can be glued on and can be removed afterwards. Sometimes this is a short solution for women in modeling who need something really fast for a photo shoot.
There are so many fake or synthetic products that can be bought in any makeup or cosmetics shop for one's personal use.
Most women actually use these to complete their everyday look. It really looks great when done properly.
However, using temporary eyelash extensions is not as easy as it seems. It is actually hard to apply and you have to wait for several minutes for the glue to dry up.
If you have not applied it properly, it will look terrible and it would sometimes peel-off on its own. It is quite embarrassing especially if someone tells you about it – like your photographer. So when you are in a hurry, it is not actually advisable to use temporary methods.
A little better but ..
Semi permanent eyelash extensions also use synthetics. The extensions are glued using a medical grade glue.
The eyelashes they use are flexible synthetic fibers so they have the same feel and look as your natural hair.
These shed along with your natural lashes. Semi-permanent means they will have a life of about 8 to 10 weeks depending on the shedding of your natural eyelashes.
However, it is necessary to get refills every 2 to 3 weeks to maintain the thick and full look you want. So you have to go back time and again to the beauty salon to maintain them.
The permanent solution for long eyelashes

If you have no time to apply and re-apply a temporary extension or you cannot go to a beauty shop every month, you can have a permanent option.
You must be serious because an implant is a surgical procedure. This is a one-time surgery where 50 to 60 live strands of your hair. They will be removed from a healthy part of your scalp and each strand will be placed on the lash line of each eye.
The procedure is quite accurate and thorough. The surgeon thereafter refines the method to conform to your natural eyelashes.
Find what's best for your eyes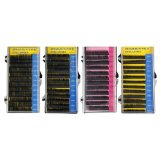 In the long run, getting a permanent eyelash extensions is the best way to have that mesmerizing look for your eyes and surest way to boost your confidence and feel good about yourself.
No matter which method you use to extend your eyelashes be sure and get consultation from a professional before taking action. Enjoy these tips about permanent eyelash extensions? Go Here for more "looking good" tips ..
Filed under: Beauty