How to Create Impressive Model Portfolios – Models Pictures Sell!
Here are some models pictures of Abbey Clancy, Adriana Lima, Cheryl Cole, Jessica Alba, Keeley Hazell, Kelly Brook, Kristen Stewart & Marissa Miller

Find How to be a model here >>>
Increase Your Chances with Awesome Model's Pictures
You've been asking the question: What pictures do you need for a model portfolio or maybe you just want to know how to improve yours.
You came to this website for new models because you're ready to create your portfolio so that you can get impressive modeling photos to share with the top model management agencies.
It's so easy to do. You'll just need to hire a local photography company, do your photo shoot, get prints or a cd and you're all set – right? Well, not exactly!
Professional Picture Examples
First of all, images need to be professional, complete, and impressive when you show your picture samples to agencies or clients. This is one of the single most important steps you'll take other than promotion to get started in a modeling career so get it right!
What are modeling portfolios?
Basically, your model photos will make up a book with anywhere between 8 and 24 pictures normally consisting of 9×12 size prints or you can put up an online model portfolio site which many girls and guys are now doing to get more attention.
You will want a good selection of different types of "looks" in your portfolio.
For example; have some photos created indoors in a home setting, some in the studio, some outdoors in different locations to show them what you can do.
Also include shots which may be considered commercial modeling, fashion, casual, and lifestyle – include fitness and glamour if this is one of your areas of expertise. Ask your modeling portfolio photographers to help you with choosing looks that best fit your personality and the type modeling you wish to pursue.
Closeup – Full Body Pictures
You'll want to include a good head shot (without makeup, or wearing very little) and a good body shot (swimwear or tight-fitting clothing) especially if you plan to apply to the larger modeling network.
These major markets and top talent management companies like to see exactly what they are getting when they view your photos.
They don't want to see fancy posing or clutter – only you, so keep this in mind when creating model portfolio photos for them to view.
How Many Pictures?
Do not think that "more is better". It's much more effective to have 8 absolutely beautiful, perfectly shot photos in your portfolio than 100 mediocre ones.
Please keep this in mind when putting your portfolio together because it's very important! If you have to really pine over whether or not an image makes the grade for quality or belongs in your model book, it most likely doesn't.
A professional photographer or agent can help you decide when it comes to quality of photos so ask for advice if you're not sure.
Also, you can view model images on some of the online modeling portfolio websites like modelmayhem.com to see if the quality of your image is up to standard.
Getting started
Now, let's get started in developing your model portfolio. A really good, complete presentation is not created overnight. You will develop it as you improve your talent by working with different photographers.
Different photographers? Won't this cost a fortune?
Photographers won't cost you a fortune if you follow the simple steps below. Your pictures will not be free, mind you, but way less expensive than paying several different people to shoot each section.
Step One – Paid Photography Shoot
If you are working on a tight budget, this may be a little painful to your pocketbook but worth it if you are trying to build a killer book of photos.
Find a photographer for your first model session
Although your local portrait photographer may be terrific in doing family portraits or weddings, he/she may not know all the ins and outs of creating a model portfolio.
I have done some more tips to help you and questions to ask in the section on modeling portfolio photographers so you'll be ready when you call them.
You may want to check to see if they offer this service but I would check places like One Model Place or Model Mayhem for photographers who are well experienced in this type work. And, the benefit is, you can check their online modeling portfolio to see many examples of their images.
You should be able to hire a really good photographer for anywhere between $300. to $1,000. with the latter being the extreme in a high-end market area. I would think the average would be around $600.
But, don't just base your decision on price. If the photographer can't produce those perfect images for your portfolio, it doesn't matter what it costs!
Why Build Your Photo Set?
First, is exposure. Building a modeling portfolio is the first step on your path to being a model and it immensely helps in acquiring agency representation as well.
There are many ways to build your portfolio but however you choose to go about it the importance is the same.
Be Prepared with Great Online Model's Pics

Finally, make sure you are ready for your model photo shoot. This is essential in creating great online portfolios as well as off.
Practice in front of a mirror or friends camera, look at magazines for pose ideas and learn them.
This way your shoot will go more smoothly and you are more likely to get your money's worth when you create model portfolios and maybe a comp card set of pictures to start your career.
Buying Books
You can easily find printing companies who offer these type books for sale with a quick search online.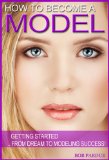 Most are fairly reasonable as you will be using your model portfolio binder for a long time. Only your pictures need to be updated from time to time as your look changes and / or you decide to add poses when working with new photographers.
Be imaginative! Create exciting models pictures and you'll be ahead of 80% of most models looking for the same jobs as you!
Filed under: Modeling Tips