Should You Use Modeling Websites?
In this video tutorial Cristina talks about model agency websites. Many models wonder if they are worthwhile but I'll leave that up to you after you watch.
Use Web Sites to Learn How to Become a Model
Why Sites for Modeling?
The fastest way to become a model is to line up for an audition at a modeling agency, and what better way to find access than to click a few buttons on your keyboard to reach modeling sites who may be able to help in your goals.
It saves you the trouble of finding out whether there are openings at a local agency.
The web has created a platform capable of bringing models, modeling communities, professional photographers, and agencies together.
It is now possible to exchange information, photographs, videos, and entire portfolios instantly and across your geographical barriers online. You can actually start your modeling career by interacting with management companies across different websites.
Faster Internet Increases Scope Of Correspondence
Sending photographs across to different agents has become very easy with digital media content synchronized with higher Internet speeds.
It does not take very long to send media content either through e-mail or through security-driven platforms established by different agencies on their websites.
Earlier, creating a model portfolio containing photographs was the purview of a few select fashion photographers.
A newcomer would find it very difficult to afford their charges. However, it has become much easier to work with agencies who do not demand photographs clicked by professionals.
Click clear images including head shots and body shots to send them to these sites as per their requirements. Photographs can be saved in formats universally accepted by different websites (normally .jpg – not giant sizes).
Once you reach the website of your choice, information regarding local fashion photographers, boutiques, hair stylists, agents, competitions, and even simple modeling tips are provided in great detail.
Most agencies list out simple instructions to be followed, and hold open calls at different intervals helping people to come together.
Creating Your Online Modeling Entity
Creating a free website is child's play. You can talk about yourself, hobbies, qualifications, interests, include photographs and videos on your website.
Many large online entities including social networks have created the mechanism that allows people to interact with other people having common interests.
Websites like Model Mayhem allow you to design artistic websites free of cost to models (although they have a paid upgrade) with absolutely no knowledge of computer languages or designing.
Using The Power Of Social Media To Brand Yourself
Aspiring models use the power of social networking sites including Google + or Facebook to reach an audience nearly impossible without help of the Internet.
These networking and model picture sites have the capacity to communicate through friends and fan pages from one person to another.
In other words, if someone finds you have a photogenic face and sees potential in you to model for them, your portfolio could literally reach hundreds of people in the modeling network through individuals backed by the power of search engines.
If you are serious about a career in the field of modeling, find websites owned by local talent companies. Casting calls, updating your profile with recent photos, and communicating with potential clients in real time is possible.
It does take time to create a unique niche and identity for yourself as a model. Nevertheless, the Internet has made it possible to cut down the time needed to promote and establish yourself drastically.
Make your move now and find yourself among elite models in much less time than you can imagine.
Final Note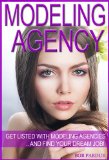 When making contacts, make sure the website (and the company) you are visiting is legitimate. Many charge fees to list you and promise the moon but never deliver. Use common sense when using these modeling websites and you should be okay.
If you are uncertain as to where to start, check some forums on sites like Model Mayhem (www.modelmayhem.com) and ask other models and photographers to help guide you.
Bob Pardue
Filed under: Model Agency Tips