Not All Models Know How to Apply Makeup for Beauty
Those beauty makeup artists ( MUA ) – They really know what they are doing, don't they? Here are some helpful modeling makeup tips to get you started off right before your next photo shoot.
Have you ever wondered how these ladies and guys can take a beautiful, yet ordinary girl and turn her into a sexy, amazing looking model who looks as if she just stepped out of a Fifth Avenue modeling agency in NYC?
How to Become a Model – Career ChoicesLearn How to Become a Model with Career Choices
Use These Modeling Makeup Beauty Tips for a More Beautiful You
Now, with these simple beauty tips, you can get this look for your next photo session.
You provide the model pose and let the beauty makeup take care of your skin and look.
Does a model makeup artist use magic?
When these people go to work with their little cosmetics kit, the model's skin is virtually flawless with no pock marks, no pimples – just that mat finish producing photographs that you can't stop gazing at.
Her lips are perfect with that hint of a pout to excite all your senses. Eyes to die for. They are bright and full of life with a stare that makes you shutter.
Tricks of the trade
Well, it just so happens that the MUA is not a magician – not at all. She just has a few tricks to applying makeup that you and I simple do not know, yet. These effects are fairly easy once you know how and why.
Getting perfect skin
Using a skin lotion containing SPF is the first step. Simple place it onto your skin by rubbing gently and let it soak in for a few minutes.
Add foundation. An important beauty tip secret is to use your fingers and not a brush when adding your makeup foundation for a smooth look.
Now you can use the brush for applying concealer to blend it in. This helps to hide skin blemishes.
Powder
Those female models (and males too) who have worked with me know that I am a fanatic when it comes to using powder. Don't come into my studio without it – I won't shoot your picture. d:-)
But seriously, powder is the most important ingredient in doing make up for photo shoots; especially if you are working under studio strobe lights. The powder cuts down reflective shine on your face and helps produce an excellent mat finish to your photos.
Make sure when you use face powder, it's a neutral color, and not colored. A quick spray of water can cause your makeup to look more natural and you don't notice the powder as much
One more powder trick
Skin color is important. Getting a lighter and tighter face is as simple as putting some matte powder (a bit darker than your natural skin tone) right underneath your cheeks and blend in.
Take a smaller blush higher up and dust on a small amount of highlighter all over your nose, including your brow bone and your cheekbones. This will create a stronger looking jaw. Your neck will also appear to be tighter using this procedure.
Big, bright, beautiful eyes!
Want them to fall in love with your eyes? Not too difficult. Just use some reflective type of concealer on the very top of your nose moving in close to the inside part of your eye. This helps to hide those dark areas and, if you use a silver eyeliner, your eyes will look brighter right away.
You can also use the metallic looking flakes to reflect light and put more light into your eyes. You can use a more transparent, shiny eye shadow to use near the inner corner of each eye and around the brow bone if the silver liner is too bold for your taste.
Eyelashes
Finally, touch up your eyes with some black mascara and curl your eyelashes for the finishing touch. Your eyes will look more open, as large as life, and brighter than you could ever imagine.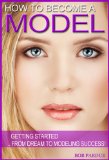 As a photographer, I know that a modeling photo is a complete flop if a girl's eyes don't draw you in to the picture. These tips can help make it happen. Oh, be sure to choose a fantastic photographer too!!
If you really want to become a beauty model make sure you know this little blueprint for getting your look the best it can be – your pictures will tell the rest of the story.
Ready for More Tips?
Check out this page for more tips for beginner models and get your free gift from me!
Success to you!
Bob Pardue
Filed under: Modeling Tips