8 Easy Ways To Begin And Promote Modeling Careers
CLICK HERE FOR MORE MODELING CAREER TIPS
Starting Your Model Career
Many teenagers and even older people think of modeling careers at some point in their lives, but inadequate knowledge of how to go about it brings in hesitation.
It is a lucrative career offering fame, glamour, luxury, and money to successful models.
There are some tried and tested methods successful models have used in the past and continue using in their careers.
The modeling industry follows a well-established system of recruitment and in the way it deals with models.
Here are some easy ways to add in your approach to how to become a model and possibly start a successful modeling career.
1. Pictures
Make the effort to prepare an elaborate portfolio consisting of photographs in various poses including head shots and body shots.
Offer complete information on physical attributes, permanent address, references, and educational background. Photographs need not be clicked by professionals, but they should be clear and must highlight your strong points.
2. Modeling Agencies
Contact as many agencies as you can before landing up with a lucrative assignment of your choice.
Professional models are capable enough to manage their own portfolio. When you start, however, you may need guidance on how to approach clients, deal with finances, and set up schedules.
3 What Modeling Type are You?
.Ask your peers and friends about your strengths before venturing into modeling. For example, it is important for you to stay focused on your goal.
You have to decide on whether you would like to test out modeling careers in fashion, print, body parts, or promotion.
4. Promotion
Spread the word around of your interest in modeling. Begin by scouting the Internet for online communities dedicated to modeling. Join forums, register yourself to agencies through online websites, and look for events hosted in your city.
Find contacts in the field and make your presence felt at such events with a "dressed-to-kill" attitude.
Show a willingness to follow up on agents or agencies showing interest in your portfolio.
5. Go Sees
Many agencies organize open calls and ask aspiring models including teenagers still in school or college to attend. It presents the best opportunity to get into modeling with very little effort on your part.
6. Traveling Models
Be open to traveling, working at all times, and develop a totally professional approach even if you are yet to pick up your first modeling assignment. A positive attitude is always rewarded with more assignments from the same client.
7. More Promotional Tools
If you have enough knowledge about creating a website, do so and spend some time making appropriate additions like the latest photographs, a compelling biography, contact information, modeling postures in mock assignments, etc.
A website gives you an online presence with a much wider reach. Most clients are comfortable with the Internet and will be more than willing to reach out to potential models with their own websites.
8. Local Modeling Jobs
Look for the best model agency in your city or nearby cities. You can do so by sending across your portfolio through their websites.
Choose the most reputable agency based on number of clients, experience, and potential to reach international clients.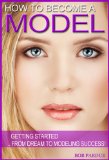 Except changes needed to prepare a basic portfolio and some copies, most agencies will not charge you up-front fees. They make a fixed commission on your assignment fees.
Keep these practical yet simple guidelines in mind when you pursue modeling careers of your choice. It will give you the confidence needed to approach a successful life in modeling.
Come back again soon!
Bob Pardue
Filed under: Modeling Tips