After watching this quick video, be sure and start contacting model companies in your area. Keep a lookout for scams. And most importantly, learn all you can from Trudi Tapscott about these modeling agencies before you go to a single interview or open call.
From the beginning, I've suggested you listen to and watch popular modeling videos to learn more about modeling agencies. Take these modeling tips by Trudi Tapscott to heart then act!
Modeling Gigs for Beginners – Tips for Getting Started With Modeling Agencies
Get More Tips Like These – Free E-Course for Models
What Are Modeling Agencies?
Basically, modeling agencies are the people who represent models in the business. They are the go-between companies who talk to clients, set up photo shoots, collect payment and pay the model.
There's a little more to it but those are the basics. Do you need a modeling agent? Most models do!
Model Agent Trudi Tapscott Talks
Hi. My name is Trudi Tapscott.
I worked as a modeling agent in New York for many years. I believe the New York modeling agencies are very specific about whose going to work in NYC.
New York is really the starting point for long-term modeling careers. Everyone looks for longevity because they're investing a lot of time and money in you. These model agents can help you get started.
No one wants to bring a person along if they only plan to model for a year. That's not what they want because learning how to model takes a little bit of time.
How to Get In with NY Model Agents
Getting the attention of these New York modeling agencies for beginners is not that difficult if you are exactly what they are looking for.
There's the answer in a nutshell. If you have what they want, then you've got their attention and it's really easy. Sometimes, modeling potential isn't so obvious.
In many cases reps from modeling agencies ny might not have time to really see all the possibilities and potential. This is especially true if you are applying to top management companies like Ford or Elite.
Do You Have the Body, Skin and Hair to Become a Model?
Maybe you need to a lose a little weight. Or, you might have to gain a little weight.
It's possible your skin isn't so great. It could be your hair is wrong. You'll find tons of reasons why you're picked for modeling – or not.
When you're young, the baby fat in your face makes you photograph in a certain way.
You'll find so many elements that go into modeling. Sometimes, it's just somebody has a bad day.
Some model agencies in New York have what is called an "open call". This means anybody can walk in the door.
It's Not You – It's Me
People are human. They could be in a hurry. They might be working on an huge booking for somebody.
Your potential isn't obvious at that particular moment. They don't have time so they move on. It's like, "No thanks. We're not interested," whatever.
The Turn Down
If you knew how many top models in the industry got missed in their first time being introduced to someone, you'd be shocked!
The development period for modeling doesn't always happen just because you're in New York and modeling full-time.
Sometimes, the development period happens when you are at home and you learn your craft. You can always learn something when you watch fashion shows online.
Look and Learn From Other Models

You'll discover so much information available to you by looking at modeling websites, or researching  modeling agency websites, most of them use a web development company which makes them so approachable to the customers.
Ask these questions:
What kind of pictures do they pick for the models?
What do their portfolios look like?
What does

models.com

write about models?
There are so many sources of information from valid people who actually interview legit modeling agencies. That's how you can tell if someone is for real. Chances are they are legit if they interview well-known people  who work in the modeling industry.
Do Your Modeling Homework!
To become a model, it's possible you need to do a little more homework. Maybe you need to work a little bit harder at it.
It's time to get smart, do some research, look at those pictures and see what those "other" models have.
Modeling becomes an obsessive adventure in a way. It may lead you to another kind of position in the fashion industry. I think everybody grows up and they think, "Oh, I'm perfect for a modeling agency."
Just Because You Are Tall Does Not Mean You're a Model

You're tall. Everybody says, "Oh, you're so tall, you should be a model."
If height was the only requirement New York modeling agencies looked for, then there would be a lot more models on the runway. Being tall is not the only thing the agents consider.
Modeling is Not for Everyone
The entertainment industry itself is big. There are lots of people who might have tried modeling and changed their minds.
They started out as a model, and they didn't like it. It wasn't for them or their personality. They didn't like being in a different place everyday.
There are tons of reasons why it didn't work for them personally. Some ended up being a stylist assistant.
Or, they decided to go into cosmetology school to learn makeup. Maybe they decided they loved clothes and studied fashion design.
Is Modeling Your Calling?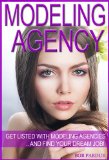 In some ways, modeling can be an entrance into a completely different world than what you expected. If fashion is a business that you are interested in, modeling is a great way to start.
I hope you got some great information from Trudi Tapscott in her simple message. I was impressed as she told the truth about the industry with no fluff.
If you are looking to get started in modeling then you should bookmark this page so you can read it again when you get discouraged. If you haven't yet, check out my modeling tips newsletter before you leave. Thanks for reading and a personal thank you to Trudi! – Bob Pardue
Filed under: Model Agency Tips