Advice for Models Who Travel by Plane
Modeling gives a person the opportunity to travel all around the world, but of course it has it's advantages and disadvantages.
That is why one must be prepared for whatever comes there way. The weather is always a concern to models who are constantly traveling because it can change so drastically.
For more modeling tips Check Here
Many girls and guys today travel by plane and of course they prefer flying first-class.This gives them the opportunity to sit back and relax while traveling so when they arrive at their destination they will be refreshed and ready to model.
Some people who really enjoy listening to music when flying often bring their own headphones because they had a bad experience with getting lousy headphones on the plane.
Be Prepared
Keep plenty of good hand lotion and face moisturizer in purse so it can applied often to avoid getting dry skin. Also drink plenty of water and bring some healthy snacks so you won't tempted when the stewardess comes around with all the high-calorie foods.
Before packing, check with the airline about the number of suitcases you are allowed and also the weight so you won't be shocked when they say you owe a big fee.
Be Safe!
The FAA Says:
"The U. S. Department of Transportation's Federal Aviation Administration FAA is encouraging travelers to take an active role in aviation safety when they fly this holiday season."
What to Pack
A good model tip on packing is to pack a lot of black since this color is can be mixed and matched with just about anything. Also, to make extra space in your luggage for additional items, roll up everything you can.
Take all precautions on what you pack in suitcase. It is very unsafe to place electronics, checks, etc. in suitcase because there is a chance these items might get stolen.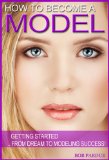 Models have found there is much more involved when taking international trips, so do your research so you can reach your final destination safe and sound. When you arrive for your photo shoot make sure you're prepared by having a hair stylist MUA, etc.if they are not provided.
I hope you enjoyed these model travel tips and be sure to stay safe & have fun on your next modeling assignment!
Bob Pardue
Filed under: Modeling Tips