Can You Really Get "Discovered" Going to Searches for Models?
Modeling agency is a word that gets thrown around in this business but what's the difference between these talent management agencies and the female model search?
Believe me, you might find a huge discretion. Here are some tips to teach you the difference and to really get you started in a female modeling career.
More Tips? Get My FREE Modeling Tips Mini-Course Here >>
Inside a Model Search
The Good and the Bad of the Process
Many women and teens alike all over the country dream of learning how to become the next great professional model but they are not sure how to get there.

This type of career may have become a dream for a women when they were teenagers as it's very likely for a young girl to dream of being a star.
Can I Get "Discovered" in a Model Search?

It's certainly a dream, but it's not the easiest dream to reach as an American female with the dream will have to go through a very long process in order to start her modeling career and not all make it through the model search process. This article will discuss the roads a woman can take when trying to learn how to become a model.
How Do I Train for Model Search Contests?

A beginner should focus on training before thinking about the model search at all because agents can sometimes rip a girl apart who doesn't look right, walk right, or do other things they expect a model to do.
And, one of the best places to learn won't cost you a penny.
If you have a friend who is already represented by an agent, get her to show you how to do it. The female model search is not the only way (and many times not the best) to start your modeling career.
If you are a teenager then time is short so get an agent so they can apply your talents quickly.
How Can I Get Myself Noticed in Modeling Searches?
After being trained, it's important for potential models to get themselves noticed. This is the time when a potential star has to do whatever she can in order to get a modeling agent to hire her.
This may mean that she will have to go to several different agents for an interview and audition.
This is when it may take people years to finally get noticed, and it can be the most frustrating time of the model search. However, when one actually does get hired, she will notice that the rough road was worth it all along.
Are Modeling Schools Helpful for Searches?

One option a person has is she can check out local modeling schools in order to be trained.
These schools usually cost a lot of money, but it can be worth it in some cases because they can get a person ready teaching them some of the basics before they list with a real agent.
Are All Model Searches Just Scams?
As with everything else, beware of institutions for modeling who promise you the moon because these are many times the people to steer clear of. Use common sense when contacting schools or get references for private instruction; or even advice from former models who have "made it happen" themselves.
It's very important for people to be aware of male and female model search scams. There are plenty of people out there who are putting together these scams, and they are trying to steal money away from those with the dream of becoming a model.
Should I Pay Money to a Model Search Company?

Some places will try to tell women that they will put her picture on their model agency website for a fee, or they will promise to give her a professional photo shoot and help her get noticed for a fee.
These methods should many times be watched out for because it can result in one losing a lot of money. Not to say that all online talent management companies are bad, not at all.
There are some websites like Model Mayhem, www.modelmayhem.com – meant for freelancers which provide exposure between models, photographers, makeup artists and
the like so don't discount them if you plan to be a freelance model. Just don't go and pay a huge amount of money because someone promises you stardom.
How Should I Spend Money for Modeling?

Here are a couple of things you can do with those savings by not diving into the female model search arena. You could get model pics and build a fantastic portfolio of photos to take to open calls and directories.
You could take those same modeling images and have comp cards printed for your promotions.
Hey, you could even build your own website if you plan to go the freelance female route.
The search could cost thousands so think about where to best spend your money to get your modeling career started.
How Can I Get Started in Modeling? Are Searches the Only Way?

There are lots of ways to get started in local modeling jobs and I can't cover them all here but take your time.
Learn all you can about the biggest modeling agencies as well as the local model service agency to get a feel for what will better your career.
It's Up to You!!
I hope this advice has been beneficial to those thinking about being a professional model.
What now? Well, first things first. Take some time every day to study about what it takes to get started in modeling, practice your poses, body language, etc. until they become very natural to you.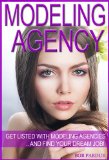 And, mostly, make some female model agency contacts so that you have a fighting chance at a career. Plan your day and work your plan.
This is the key to succeeding as a female model. Hope to see you on the cover!!
Till next time!!
Bob Pardue
Filed under: Model Agency Tips