There's so much to think about and do when you're preparing for a career and becoming a fashion model. So, I put together some cool tips to help you develop model portfolios that rock!
Model Portfolios – How to Create a Killer Modeling Portfolio Book!
One of the most important things on your to do list is formulating great pictures to put in your model portfolio you'll be showing to agents and for booking with clients.
First, to get the most out of your portfolio investment, check out this book by R.C. Lane. You can get it now over at America's number one shopping site.
The photo images you pick will make or break you in the world of modeling. And yes, they become the resume that agents and clients all use to determine your suitability in their campaigns or companies.
3 Suggestions for Getting The Most Out of Your Modeling Portfolio
What can you do to make your model portfolios stand out from the rest of the crowd? Well, even if you are a beginner or new to the area, you can follow these tips and modeling portfolio samples to make your picture book stand out from the rest of the beginners you're up against.
Suggestion #1

– Head Shot Tips
Head shots are usually one of the first and most basic pictures that a model must have in her portfolio.
While you might think this should be a stiff formal picture, just the opposite is true.
In reality, your model headshot should show a relaxed and comfortable you. And, the picture features you in middle colors. Don't make it too drab – but nothing flashy either.
When you go in for your headshot photo session, wear very little jewelry. You don't want to detract from the beauty of your facial features.
Suggestion #2

– Learning How to Pose for Model Portfolios
First, look through name-brand magazines to find poses you think would work for you. Look online for model portfolios examples you like. Then, practice these poses in the mirror.
Next, get a friend to take modeling pictures of you in the various poses. This way, you'll see how they look (not to be used in your portfolio).
Lastly, make adjustments to your poses until they look natural & awesome!
Study Every Angle on Creating Fashion Portfolios
I researched online and found that Craftsy introduces some tips on how to create fashion portfolios for modeling or other careers in the business. One of the first suggestions they give is:
"First and foremost, do your research. If you'll be using your portfolio for a specific purpose (like applying to fashion school), make sure you understand the portfolio requirements.
These will vary by program, and it truly won't matter how awesome your work is if it isn't what they want to see. Follow the requirements exactly!
If you are showing your portfolio in person, feel free to bring additional examples (just know that they might not get looked at)." read more ..
Suggestion #3

– Look the Part of a Modeling Professional in Your Portfolio Pictures
Modeling demands great posture. Unfortunately, posture does not come natural to everyone. No matter how beautiful the woman or girl is, she needs to capture a "model look". So, make sure those shoulders are up and the back is straight.
When you create a picture in a sitting pose, make sure you have your weight shifted to one leg. This shift gives the look the right angles.
Next, suck in your stomach a little, no matter how thin you already are. Don't hold your breath when the camera snaps as it's sure to show in the pictures.
Create Your Awesome Model Portfolios First! Then, Make the Grade as a Model
Getting discovered in modeling is a job in and of itself. And, you will work much harder before you get hired with an agency than you ever will afterward.
Learn all you can about modeling portfolios – and the business. Then, put what you learn into action. The book I mentioned above by R.C. Lane gives you a ton of good information. Click the link below to get your copy…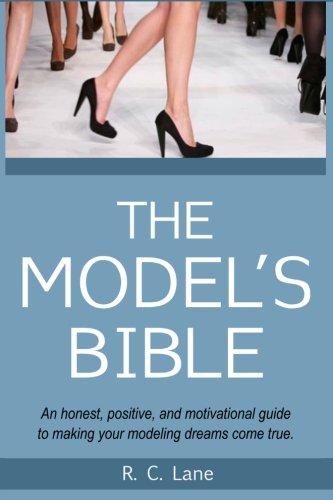 ==> Get The Model's Bible by R.C. Lane here.
Finally, the key to awesome model portfolios is practice and persistence. No doubt, your modeling portfolio book will tell if you've done the research.
And, it shows the extra work you did to make it happen. In the end, the decision to really learn how to become a model is up to you! – Bob Pardue
Want More Modeling & Portfolio Tips?
You can get more tips for model portfolios, info about supermodels, agencies and more with my FREE Newsletter. Just head over now to sign up!
Filed under: Modeling Tips