Can Modeling Classes Online Help Me to Become a Model?
If you are considering getting started in entertainment there are several options to consider.
One of these choices is to start looking up modeling classes online to give the benefit of knowledge about the industry and the model network of agencies before you make your first contact.
A Simple Question about Getting Started as a Model
Taking into account that you are a girl or young woman who has always dreamed of getting into the fashion or glamour industry as a model, I'd like to welcome you to some refreshing advice for modeling beginners.
No, I'm not going to charge you for these individual model tips nor do I plan to pump you full
of sunshine to tell you how easy it is to become a model – neither is true.
Getting Started in Modeling
Fact is, just as any profession, when you decide to begin your classes for modeling you'll find that there is some serious work involved.
For instance, if you planned to be a fashion dress designer, you would expect to go to a college for clothing design, wouldn't you?
And, the great news is that you would need some talented female models to display your fine creations. You'd want experienced guys and girls to insure the best results in your quest.
Expectations
When you decide to move into a career in modeling – no matter if you desire to pursue high fashion, runway commercial, glamour or promotional, either taking formal modeling classes or learning a routine you can practice from home.
Keep practicing model posing and other things you need to know about the industry is essential.
Here are a few tips for what you'll need to know…
1. Plan Your Modeling Goals
The number one step to becoming a real model – the one many girls leave out, is to develop a plan.
Even if you are planning to attend professional model classes or even through online resources make sure you have a clear goal of what you want before you begin.
2. Practice Your Craft
Another section to learn is to practice and nurture your talent and skills.
– Look through fashion or teenage magazines or websites to see how professional models work. Get a feel for the clothing they are wearing for the photo, the pose, the facial expressions, etc.
– Copy at first, then create your own style. Practice posing techniques and expressions in front of a mirror until you are really comfortable with them.
When you step in front of the photographer's camera is when your self-created model class will pay off big time!
– Make Contacts! Once you feel you are ready, start making connections by looking for reputable talent agencies who can help with your career.
Any teachers who offer instruction for new models will tell you that the right agent can either put you in the spotlight or can determine your future in many cases. Choose your agency carefully.
Look for More Female Model Tips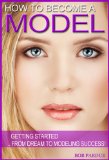 Now that you have a taste for what to expect from modeling classes online, be sure and mark this website so you can come back to visit often.
When you learn how to become a model in its true sense, you'll be happy you took the time to study.
Now, go to work on your personal female modeling career. Good Luck!
Filed under: Modeling Tips