Did the kids at school used to kid you about your long legs? Call you daddy longlegs or other names? Well, no more when you step into the room wearing your sexy mini skirt.
Showing off legs is nothing new. The mini skirt has been part of most women's wardrobes since the 1960's, although the concept began in the 1920's.
Flirty, fun, and feminine, this skirt has earned it's way into our closets, both as a fashion statement and a sign of liberation.
Colors and Styles of Mini Skirts
With it's countless cuts, materials, and colors, you are sure to find the mini skirt that's right for you. However, because of this fashion diversity, it's hard to tell just by looking which skirt will complement your figure.
One skirt you see on a super model in Vogue may look awful on you, while another that looked unappealing might have a special charm to it once you've tried it on yourself.
Understanding some of the fashion "do's and don'ts" of mini skirts, you'll be able to create your own flattering signature look.
Research Before Miniskirt Shopping
When you go shopping for a mini skirt, you need to first assess the skirt's cut. Some mini skirts are very, very tight fitting, made from spandex, These styles were popular in the 1980s.
Remember disco?
Make Sure You Have the Body for These Types of Mini Skirts
These, unfortunately, are only suitable for those women gifted with extremely toned and shapely buns and thighs. If the body fits, wear it.
A Line Mini Skirts
Another cut is the "A-line" which is a plain-edged, not particularly tight fitting cut that first became popular during the 1960's and 1970's during the so-called "Women's Liberation Movement". Happily, this style is suitable for most everyone, because the plain lines draw attention away from any leg imperfections.
The Silky Mini Skirt for a Feminine Look and Feel
Some may consider the A-line look too plain, so for this audience there is the ultra feminine silky mini skirt. This skirt has lots of layers of almost transparent silks and raffias, both of which have a pixie fairy-like quality to them.
The interesting story about this mini skirt style is that it originated in the 1920s, when flapper designs were all the rage.
The skirt was not actually above the knee, but was designed in such a way that when the flapper girl walked or danced, her knee and lower thigh were exposed.
As you may imagine, the style was very avant garde for those times. Fringes at the hem were often part of this flapper style mini skirt.
Kick Up Your Heels in Your Mini Skirt
These short skirts make excellent companions to shoes, because you can combine them with any heel height.
A mini skirt paired with heels always makes your legs look longer, leaner, and more toned. Boots, too, look great with the mini skirt. This look is classic mini skirt, going back to the 1970's, when go-go dancing was popular.
When to Wear Miniskirts
You may think that mini skirts are only suitable for summer. However, this is just not the case.
As the weather gets cooler, you may still like one particular skirt that was a summer favorite.
Not to worry! Instead of letting it go to waste, why not get a pair of leggings? With leggings, you can wear these skirts at any time of the year.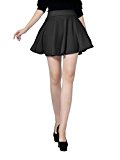 Worn with a long coat, you can be both warm and look pretty!
So, now you know what to look for when buying a mini skirt so head for the stores today or, if you don't want to leave home, take a quick tour of mini skirts online right from your keyboard.
Filed under: Fashion