6 Model Makeup Tips for a Model Agency Interview
Are you going to a Casting Call? Then you're going to need some tips for applying makeup for your model agency interview to get maximum results, aren't you?
The good news is you don't have to hire a model makeup artist to get ready. You can go inexpensive by using some of the makeup and beauty products you already own.
How to Do Makeup for a Model Agency Interview
Here are a few model agency tips to make you look great when on your way to becoming a fashion model and you won't look obviously "made up" at your model agency interview. Let's get started and you'll see how easy it is to look fantastic? Excited? Read on.
1. Makeup Foundation
Apply a light foundation base to cover blemishes and give your face a smooth look. Use a light base, put some on the back of your hand and apply gently with a foundation brush. You should end up with a light finish and texture.
2. Concealer
You may or may not need concealer. Check for problem spots but again, don't overdo your modeling makeup. If it looks good, leave it alone!
3. Powder – My Pet Peave

You can use powder to add just a bit of color to your face and to give your skin a matte finish.
I use powder in the studio to keep off reflection from the strobe lights.
Using a small amount of powder will help take the shine from your face when you face the modeling agency interviewer.
Eye Makeup for Your Model Agency Interview
4. Eye Shadow
This is a matter of taste. Personally, I like my models to use lighter shades. This will help brighten up your eyes and make them look larger than life. When editing modeling photos, I spend quite a bit of time on the eyes for effect. In a model agency interview, you'll want your eyes to reflect who you are. Keep eye makeup to a minimum.
5. Mascara
Nothing much to say about using mascara except to apply enough to separate your eyelashes to make them appear fuller and longer. Again, a little bit goes a long way.
Your Model Agency Interview Calls for Lip Restraint
6. Lip Color
Get a lighter shade of lip balm that is light reflecting. You don't want those dark, ruby red lips when going to a model agency interview.
You're All Set!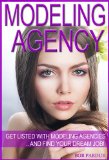 If you use these makeup tips you will appear to have very little makeup on while retaining your beauty at the open call or interview.
When you show up for your model agency interview, your eyes will be bright, your face smooth and you will look your best.
The Video
Ruth Crilly gives precise tips for applying makeup for a model agency interview. Now you will be more than ready for your modeling cast call. Bookmark this page as one of your favorites so you can watch the presentation before interview day. Good luck and hope to see you at the top! – Bob
Ready to Become a Model? Go Here for Free Tips >>
Filed under: Model Agency Tips