Truth Is, I'm Not Pretty Enough to Model So Why Even Try?
Pretty Girls Don't Always Become Models – So Who Does?
Have you ever said to yourself; "I am not pretty enough to model." and let that stop you from your dream? Many girls have so I want to address this question while you're here.
One misconception about modeling is that only the pretty girls make it in the business.
Although somewhat true, there are other factors involved.
As you will see in this question and answer session, the female model here is a bit worried about her look for modeling.
Q. Am I Pretty Enough to Model?
I just wanted your advice and the modeling tip emails you send me giving tips and advice about getting started in the industry are awfully helpful to me in learning to model. The problem is that I'm not an absolute  pretty girl.
I am not sure if I have what it takes to be a model. Any advice about looks and beauty would be helpful.
A. Beauty is Only a Part of Modeling
You do have to be tall for runway and high fashion. But, there are also commercial and promotional jobs available for nice looking people with a certain look.
How to Get Your Modeling Career Going
Make lots of contacts, get interviews and let the agencies turn you down or accept you.
Don't defeat yourself before you start.
Most of the supermodels were turned down a few times including Tyra Banks and Cindy Crawford. So, don't take "no" as a final no. Keep trying until you are sure.
I have a USA model agency directory to get you started for contacts at Modeling Agencies – USA Directory so you should be able to find plenty of contacts there.
Try a few agents in your local area. Make sure they are legit by asking if they charge fees upfront and see what happens.
If you are turned down, go to the next, and the next. Read what famous model Miranda Kerr says about being rejected when starting out.
Miranda Kerr:  "There was so much rejection in the beginning.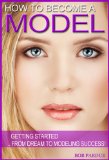 On modeling My life is more balanced than ever. There was so much rejection in the beginning. Models are some of the most insecure people I've ever met. They're constantly being told they're not good enough."
Don't simply tell yourself "I am not pretty enough to model.". Let the agencies tell you how to get started and don't give up too soon! Best of Luck! – Bob
Want more tips like these? Go Here to get them!
Filed under: Modeling Tips