How to Remove Eyebrow Hair – Make Your Eyes More Beautiful
One thing a beauty model and every other girl have in common is they both want beautiful eyes. One way of accomplishing this is with the art of eyebrow hair removal. Learning how to remove eyebrow hair can be exhilarating, but maybe painful if not done correctly.
Here are a few options for removing eye brow hair I believe will help you in having stunning eyes.
In Model Photo Shoots, The Eyes Have It So Many Girls Want To Remove Hair From Their Eyebrows Beforehand
In the world of female modeling and in the workplace, there are very few women that are happy with how their eyebrows look when they have not been altered in any way.
This is because they grow in thicker than we want, and if you look at people in magazines or on television, you see how their shapely brows enhance the way that they look.
If you have very thick brows, you may think that they make you look less feminine that you want. You have many options for eyebrow hair removal so you can choose the form that works the best for you.
Should I Use Cream Removers for My Eyebrows?
Though you may use a cream remover to get the hair from your legs, that is never something you should use for your eyebrow hair removal. This type of chemical can possibly blind you if it were to get into your eyes.
No matter how careful you are with eye care, you never know what will happen. Besides, you are going to have a hard time keeping this stuff in the right place anyway, and you could really do some damage to your brows.
However, there are plenty of effective ways to go about eyebrow hair removal.
How to Remove Eyebrow Hair by Waxing
You can have your eyebrow hair removal done by getting wax that is made just for this reason.
If you have never waxed before, you may want to do this somewhere else on your body before you do this on your brows. You don't want to make a huge mistake.
You should trim your brows if you have long strands as a first step with this type of eyebrow hair removal so that you do not get wax on strands that you want to keep.
Use a soothing cream if you have some pain, and don't use when your skin feels extra sensitive, like near the time of your period.
Keep Your Natural Look
Another piece of advice to consider before you apply eyebrow wax is to look at the natural shape of your brows. You don't want to try to mold your eye brows into something that makes the hair look unnatural.
Painless Eyebrow Hair Removal
You can also see what you can do with your tweezers if you wish to make a small change or to keep things clean in between when you wax each time. These can be great but can also be painful.
You are going to have less pain if you pull the skin taunt when you tweeze. Again, make sure you trim hairs down so you know you are getting the right ones.
That also makes it easier to do this type of eyebrow hair removal with accuracy and so that you do not miss any that you want to have removed.
Professional Method to Remove Eye Brow Hair – Threading
There are some women that do not want to do their own eyebrow hair removal. If that person is you, you can go to almost any salon to have this done by someone else. You can have them waxed, tweezer removed, or both.
You can also see if you can find someone who offers eyebrow threading to get the shape that you want. This is done with a cotton string and is supposed to be one of the best and less painful ways to go about getting your eyebrows into a shapely and pleasing state.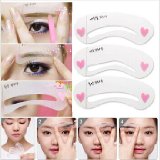 I hope this tutorial for how to remove eyebrow hair has been helpful. Truth is, models and eyebrows have a love/hate relationship so you need to learn how to get along with them. 🙂
I look forward to seeing your pics after your new found way of getting those beautiful eyebrows you deserve! Please comment below if you have found other great ways to shape up your eyebrows. Oh, want to find great eyebrow products at a discount? Check here ..
Filed under: Beauty