Yes, You Can Learn How to Pose Like a Professional Model
The question is; "Can I really pose if I haven't tried it yet?
Yes! It's not that difficult to pose, after you learn how. These tips cover some of the basics you need to know in order to get those awesome modeling photos you've dreamed about.
Learn More Tips Like These Here – Free Mini-Course!
Tips for Posing in Modeling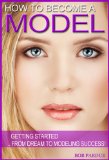 Watch this video and find others online to give you some examples. With some practice you'll be able to learn how to model pose like a champ in no time. All it takes is some commitment and determination. Go for it! – Bob Pardue
Filed under: Modeling Tips