Yes, You Can Learn How to Model Pose Like a Professional
The question is; "Can I really pose if I haven't tried it yet?
Yes! It's not that difficult to learn to pose like a model. These tips cover some of the basics you need to know in order to get those awesome modeling photos you've dreamed about.
Learn More Tips Like These Here – Free Mini-Course!
Tips for Posing in Modeling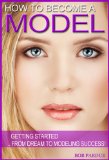 Watch this video and find others online to give you some examples. With some practice you'll be able to learn how to model pose like a champ in no time. All it takes is some commitment and determination. Go for it! – Bob Pardue
Filed under: Modeling Tips