Not an uncommon question. In fact, most girls don't realize how to dress for a model agency interview and this could mean the difference between a modeling career and failure. What do you think you should wear? You might be surprised! Let's take a look at your clothes and makeup.
QUESTION: "What Do I Wear to My Modeling Agency Interview?" (Video)
If you plan to get a management company in modeling to represent you, it's best to look the part of a professional model, isn't it? Watch the video below all the way through and then go to your open call.
Go Here to get more modeling tips!
This video model tutorial offers tips for new models including this video about what to wear during a model agency interview.
Truth is, many newcomers make serious mistakes when they decide what to wear to the interview. Agents notice small details that you should know before showing up at an open call.
Not knowing could keep you from getting accepted.
Dressing for Your Modeling Agency Interview? Take action!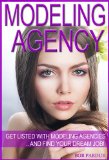 Now that you have discovered how to dress for a model agency interview it's time to contact some companies in you area and get your career in the fast lane! Good luck & see you next time! – Bob Pardue
Filed under: Model Agency Tips