Learn How to Become a Glamour Model
You're pretty. You have curves with 34-24-34 measurements.
You want to learn how to become a glamour model and work in your underwear or bikini but are not sure where to begin.
Well, hopefully by the time you finish reading these tips you'll have a better understanding of what it takes – and you'll be ahead of many young women who aspire to find an agent or model management company so they can get into modeling. Read on ..
Getting into the Business
Learning to get started as a glamour model is essential towards achieving success in a highly competitive field.
Many have tried earlier but failed to achieve the desired level of expertise, perseverance, and time management skills required.
By understanding and meeting basic requirements for this type of modeling career, you stand a better chance of meeting with success.
Measurements
Glamour models normally have to present the perfect figure to carry off luxurious and trendy fashion wear for different occasions. The ideal figure required is 34B at the bust, a 22 to 24-inch waist, and 34 hip size.
Beauty
A strikingly beautiful girl with a great personality stands a better chance of making it big in the composite world of glamour modeling.
Though it may seem unfair, the field is so competitive there is no room for mediocrity. A model for fashion represents some of the best brands in the world and is expected to look her best, representing the company in reaching out to a worldwide audience.
These Female Modeling Jobs are NOT for Everyone
Glamour and showing skin often go hand-in-hand in the world of modern fashion.
If you have reservations about posing in very little or no clothing or wearing a two-piece bikini, for instance, you must make it clear before you take up an assignment.
Expect fewer assignments at the cost of maintaining your viewpoint towards this type and the money.
Good, Recent Portfolio Pictures
Photos and portfolios invariably reach the most prestigious and international agencies and companies over a period of time.
It is therefore imperative that an up-to-date portfolio is maintained with recent photographs clicked by professional photographers presenting a unique look that holds appeal in the world of glamour modeling.
Be Prepared to Work Hard
A great deal of work needs to be done at the initial stages while learning. Get your portfolio to several leading agencies and even potential clients on the lookout for fresh talent.
Attend open calls for local assignments and basically be on the lookout for fashion shows in your city to find desired work.
Your Time is Valuable
Time management is highly essential, as the industry demands flexibility of a very high order. A professional approach requires you travel to different locations to complete assignments at very short notice.
Living out of a suitcase is not an unusual lifestyle. There is a price to pay, as time is a premium and being horded by clamoring fans can be an asset as well as invasion on your privacy.
The Attitude

Required mindset must be established to sustain longevity in the profession. A bold attitude helps sustain interest in work. To truly become a model you may have to face several failures in terms of losing lucrative assignments to competitors.
Making comparison is not ideal in this profession. Be prepared to present your best self at every opportunity to achieve progress.
Watch – Do What They Do
Develop the mindset of a businessperson trying to increase productivity over a period of time. In your case, try and emulate those people who are already successful and the ones you think are the best of the best.
Establish the limit to which you are prepared to go and an estimated target of maximum earnings for each assignment.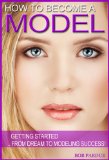 Simply put, if your market value goes up for a modeling assignment, you have learned how to become a glamour model capable of achieving a high level of success.
Hope this helps in your quest for getting your dream in order and be sure to check out other tips for becoming a model on the site too!
P.S. Be sure and join my modeling tips newsletter before you leave.
Good luck!
Filed under: Modeling Tips