Do You Meet the Requirements? How Do You Become a Fashion Model?
Are you a female who would like to learn modeling, but you have no idea what the physical requirements are for starting a career? Exactly how do you become a model and work in this industry called entertainment? Read below for some exciting tips.
5 Quick Steps to Fashion Modeling
Some frequently asked questions include:
Do you need a portfolio of pictures?
Can you be a teenager or adult?
How tall do you need to be for Elite or Ford?
What are Fashion Models?
Their photos appear in magazines and catalogs to promote clothing or other accessories to customers and department store buyers.
Confidence and Tenacity
If you are confident, aggressive, intelligent, resistant to peer pressure and willing to listen and learn, you have many of the traits that may help you to become successful.
But, before you get started in any type career, please consider reading the tips about how to become a fashion model below.
At one time or another, it's just about every young girl's dream to walk the runway like Tyra Banks or Cindy Crawford but, in all reality, most never make it to the top list in their careers.
Here are 5 Simple Tips for Beginners to Get You
Going
1. Talk To Other Fashion Models Who've Been There Already
Talk to someone you know that is already involved in the network.
Visit some of the most popular modeling sites and ask them questions about the following:
How Do You Avoid Scams?
How Do You Choose The Right Fashion Female Photographer?
Should You Go To Classes or Learn by Doing Poses for Photographers?
How Important Is A Portfolio and What are the Requirements?
How to get discovered by attending a Cast or Open Call
Knowing the answers to these few questions will help you tremendously in making your decision about this competitive field.
2. See What the Top List Girls And Designers Are Doing
One way to learn what's going on is to take a close look at fashion magazines to see what the latest styles are. Read and learn as much as you can about fashion designers. Research every aspect on the Internet about IMG, Women Management and other industry giant agencies.
Do You Want Full Or Part Time Work?
People entering the business can begin either full or part time, depending upon your situation. Also, if you should decide if you want to get jobs just for fun or to make an income.
Be comfortable when you set these goals and be determined to reach them. You will face many rejections, so be very persistent and Never Quit.
4. How Tall Do I Need to Be?
If you plan to get serious, especially if you plan to apply to agencies representing Tyra Banks and other superstars, the following physical attributes are a necessity.
You need to be at least 5'8″ tall or taller ( Especially for the ramp )
Your height should be flattered by your body weight (average 108-125 lb..) and proportions.
Your skin should always look radiant and without lots of pimples or blemishes
Your hair should always be clean, styled and vibrant. Avoid excessive over-dying and split-ends.
Your teeth should be well taken care of, straight and white. Stay away from coffee and cigarettes. Remember, agents love to see their applicants give a vibrant smile.
Your posture has a big affect on how people perceive you. Keep your chin up and shoulders back.
5. Choose Your Agent
Now that you have decided that this is definitely what you want to do with your life, your next step is to find a legitimate management company that will direct your new career for you and hopefully find you work.
You can find fashion agencies in your area by checking your phone directory, searching on the web or asking people you know already in the industry if they have any suggestions. Just always remember you should never have to pay an agent any money upfront.
If they ask for fees or offer to send you on a cruise or convention, call another one.
Keep At It!
Even though, this may sound like a lot of advice, just remember if you really want to get started, it will take a lot of time and hard work. This is the case no matter if you go into glamour, runway, figure or commercial work.
No matter what your background or nationality you'll still have to set goals and work toward them daily. There are no shortcuts in entertainment.
Other amateurs in modeling are working just as hard as you to reach their dreams so write down a routine and practice daily. That's the way Tyra and Cindy started out.
High Fashion and runway modeling careers can be very competitive and ….
"Only The Strong Survive."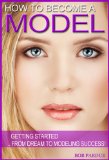 So, precisely how do you become a fashion model and work in your career choice? First,  set your goals for today and get to work on your dream! With real effort and a bit of luck, you might become a fashion model and walk the runway soon – it is possible!
Go Here and Learn More about Fashion Modeling >>
Filed under: Modeling Tips