What is a Fashion Model – How Can I Be One?
If you are  a female teenager there is a good chance you've asked this question or, you may have even thought of becoming a top list fashion model – or maybe you just want to get some fun modeling jobs locally.
Either way, here is an answer to the question and we hope you will bookmark this page for some cool modeling tips so you can come back to visit often.
Learn what it takes for a beginner to be a female fashion model
Modeling Types for Females

Girls just starting out as a new talent many times don't have a clue as to what type modeling they want to pursue.
Here is at least one answer about fashion models and what they are about. Even young females who don't want to walk the runway or grace the cover of a major fashion magazine like Cosmo or Vogue still like to see pictures and read about their favorite fashion model in the current news.
Modeling and Fashion – Two of a Kind
There is no doubt that women love clothing. Female models do too but some of these in the industry become obsessive about beauty and their body image.
Some girls just happen to be born with a thin frame, height and a winning smile which, combined with their sensational sense of poise, is enough to get high fashion modeling  jobs – maybe.
What Does It Really Take?

Now, here is the real truth about raw talent and the entertainment industry. It's not as easy as it looks. In reality, models have to do an horrendous amount of planning, practice and sacrifice to make it in the modeling world.
It takes stamina, goal seeking and commitment to begin a model career. When girls are thinking about getting started in the industry these things are many times the furthermost in their minds.
Beginners don't always realize what is involved but professionals know this all too well!
Goals

There are certain goals you need to get started as a fashion model. Think out and write down.
The Modeling Basics Such as …
Posing for Photographers
Learning about Facial Expressions
Learning about Body Language and Posture
How Did the Supermodels Do It?

People like Cindy Crawford or Tyra Banks didn't become supermodels by going to the mall or hanging out with friends every night.
They were at home working on their appearance along with the things mentioned above.
Do You Have What It Takes to Become a High Fashion Model?

So, being a fashion model is pretty simple if you've got the look and can set a schedule for yourself –  but it's not always easy.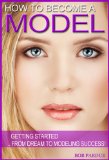 Remember, you'll have to make some sacrifices, beat some pavement going to open calls at agencies and do some work in order to be a female fashion model in this network of high competition.
With that said, get going now and turn your dream into a goal and a career.
Thanks for stopping by – see you next time!
Bob Pardue
Filed under: Modeling Tips