Are you blessed with absolutely magnificent hair? Do all the other girls envy you? If you answered yes, then hair modeling jobs may be in your future.
Many models, teens and female adults are gifted with great luxurious hair in all different shades and colors. These young women are ideally suited for hair modeling jobs and are making some good money doing it! Yes, if you believe you have what it takes for a career as a hair model, read on ..

Hair Modeling Jobs – Got Great Looking Hair? Try a Different Type of Modeling
This model tip and short video lesson is for those girls who want to learn the basics of modeling but don't have quite the height for high fashion modeling jobs. They still want to work in the entertainment industry so what do they do?
These are the young women who wash their curls every other day and use the best possible shampoos and other finer products.
Healthy Strands Could Mean Hair Modeling Jobs for These Girls – Who are They?
For these hair models, dandruff is never a problem. They sport healthy, flowing hair just waiting to be discovered.
They are primed for the modeling network who needs these attributes.
Why is Female and Teen Hair Modeling in Demand?
Manufacturers of products like Pantene and others are constantly on the lookout for models with great hair.
They want models who are capable of enhancing the reputation of a shampoo or other hair care products.
Want a Job as a Hair Model? More than Brushing Your Curls
It's natural for a woman to brush her hair for beauty, but models have to be more flexible if they want a hair modeling job.
They must understand what's needed to promote a product (this is what commercial print modeling agencies do). These steps sometimes involve changes in look and even hair color.
How do Models Keep Up Their Beautiful Hair?
Healthy hair is recognized by clients (those who count) if it is regularly trimmed to avoid split ends. The model's hair must be treated with necessary hair products like oils or creams to maintain a clean, luxurious look.
Companies choose hair models to promote shampoos, conditioners, hairdryers, tonics and other similar haircare products.

Hair Modeling Jobs Require Knowledge
It really pays off to understand the type of shampoo used for different hair types. Also, be aware of hair conditioners capable of removing uncontrolled wavy hair.
Models are used to having their hair permed, bleached, dyed, and trimmed as is required by each model job. They prefer to keep it naturally long and healthy. They make necessary changes to their hair as needed.
Choosing the Best Hairdo For A Model Portfolio
The good talent agencies work with hair models by first preparing a portfolio with photographs in different poses.
Potential clients then decide on hiring a hair model based partially on these photographs.
Prepare your hairstyle in a natural way so that your model portfolio pictures won't require too many changes.
Changing Styles for Hair Modeling Jobs
If a model has long, beautiful hair and then decides to don a cropped look, her personality may appear different in pictures. So, a hair model needs to give lots of thought to the initial look.
The idea is to establish a hairdo that holds appeal for a wide range of products. In other words, potential clients may want the same look in the portfolio to appear in print or in front of the camera for their own products.
Work With A Modeling Agency to Create a Unique Hairdo
Girls have some limitations in terms of making drastic changes in hairdo.
The ideal way to go about it is to work with some of the best
talent management companies in creating the perfect, unique look capable of setting a standard for a certain range of products.
It ensures a consistent stream of assignments, as viewers often recognize a product by a model's hairdo.
Agents help hair models in establishing and growing brand value. Assignments can be considered for ramp, print, fashion and other areas of modeling as well.
Hair stylists are also constantly looking for new models to present different styles before a knowledgeable audience.
Assignments may not include walking the runway for teen models, but modeling jobs for
hair help models sustain luxurious, healthy hair over the long term.
Keep Records for Healthy Hair – Your Work Depends on It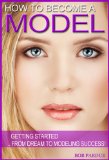 Keeping track of treatments done in the past ensures the right hair treatment during teenage modeling assignments. Hair models have nothing much to lose in sporting a great hairdo every time.
If you feel that hair modeling is for you, keep studying and learning all you can so that you can be prepared when opportunities come your way! I hope you success!
In this tutorial, you've learned just about everything you need to know about getting hair modeling jobs. If you want to learn more about modeling check out this page for a free gift and tips! See you later, Bob Pardue
Filed under: Modeling Tips