Three How to Tips for Glamour Modeling  Jobs
So, you want to know how to get started in glamour? You want to learn the poses, get into magazines, do swimsuit photo shoots for Victoria's Secret or other lines of sexy clothing, am I right?
Glamour model photo copyright BobPardue.Com
Here are some quick tips I've put together to get you started with glamour modeling jobs so you don't have to wonder any longer. Read these three tips carefully. They are simple but essential to starting this type of model career.
You might be interested in all modeling types and opportunities in the industry. No matter what you choose but this is more geared toward those bold people who dare get involved in glamour so hang on and let's get started.
Well, female glamour modeling might be just a bit different than you believe – watch the video for new models and see what it really takes!
The Glamour Modeling Myth
In these two step by step instructions – you will find that this type of career is not always going to be posing for racy pictures or sexy shots in string bikinis on the beach – well, let's not get ahead of ourselves, here goes!
Learn How to Get Started in Glamour Modeling HERE!
ONE: The Talent Agency Interview?
In one definition, glamour modeling is sophistication. When you enter a modeling agency, you want to carry yourself well.
What to wear? Dress conservative – don't overdo it. You need to earn the respect of the talent agent during the interview. This means no low-cut blouses or see through tops, miniskirts – well, you get the picture.
Look professional in a nice pair of tight slacks, jeans or even a business suit will work. This presents you as someone who has class and style – the agencies like this look!
TWO: Poses
When becoming a glamour model you'll want to learn how to give poses to fit the look. It's not about lying on the beach with the "c'mon" look – not at all. You want to give more of a regal look into the photographers camera, maybe looking off to the side.
You don't have to arch your back or give a sexy facial expression to become a female glamour model. Look at female modeling poses in Glamour Magazine or Vogue (you'll find some here) and see what the other girls are doing – copy then tweak the pose into your own style.
Conclusion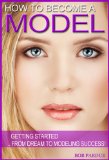 Now, I'm aware there is much more to glamour modeling that just these two tips but you will find a starting point here. Read and learn all you can about the beginning of your dream and how you can get started as a model with a management company. If you have the right look and measurements, there may be jobs available for you!
Filed under: Modeling Tips