Finding Glamour Modeling Careers The Easy Way
Modeling is often associated with tall, slim women walking the ramp sometimes displaying swimwear and wearing trendy fashion wear just released by a designer.
However, there is a lot more to it than that.
How to Become a Glamour Model
Fashion is all about the clothes and glamour
is all about the body. Aspiring or experienced candidates invariably look towards this career for excitement and monetary benefits.
The best part is that some exciting glamour modeling careers are there for the taking irrespective of age.
What Shape are You?
People of all shapes and sizes like to wear the latest fashion clothing. However, they do need to experience visual appeal in swimwear or evening gown before they choose to buy what is on offer.
Models of similar size present the beauty they look for while going through a fashion magazine or video.
There are several aspects of glamour modeling candidates need to be aware of before looking for opportunities.
Extremely beautiful people who work for large model agencies or walk for Victoria's Secret lingerie are also highly photogenic normally have great chance of making it big in the world of glamour.
It does not mean a slightly shorter or plus-size model will not get opportunities. Understanding different requirements, however, ensures the approach is right.
What's Required?
Understanding requirements of a glamour model is the first step to success. Opportunities are more for beautiful and glamorous models willing to pose for lingerie. All different aspects may not be actually visible in a photograph.
The model matters and creates the perfect look for what may be a product review. Details can always follow, but the initial appeal is generated by the glamour quotient.
Many find work promoting the latest designer cars or creating visual appeal needed at trade shows.
Models come in different shapes and sizes but have the right attitude and outlook when it comes to glamour. You will always find successful models also turning into great actresses or brand ambassadors for some of the biggest brands you come across.
A 5'6" model weighing 90+ pounds has a good chance of competing with a 6' model vying for the same glamour assignment. The magazine editor or designer team makes the choice. The way a girl carries herself often helps a client make the right decision.
Glamorous Versus Sexy Look
Aspiring models often misunderstand the difference between these two categories of modeling.
It is definitely possible to look glamorous and sexy at the same time, but a glamorous model has a magnetic quality sometimes missing in women attempting to look sexy. Sophistication is the key.
Consider applying for a high-profile job and then entering into a room full of people looking for glamour quotient in applicants. What you need is immediate appeal to get you the job.
Giving the Look
Looking sexy would mean you are capable of pulling off swimwear or lingerie with some help from a professional photographer. Glamour models, on the other hand, can instantly present the right look for a future project.
Who Are These People?
They are professional and businesslike, yet show all attributes needed to produce the perfect look for a tough assignment. There is nothing casual about them.
For example, you will never find them in casual clothes trying to present the best facial makeover they could muster.
It is basically related to unique characteristics projecting infectious positivity when they speak, walk, or pose for a photo shoot. A slight adjustment in posing is often able to create the sophistication needed to endorse a product.
Think And Act Like The Rich And Famous
People are attracted to the rich and famous as they want to be like them. Rich people own the latest cars, stay at prestigious high-profile hotels, and wear antique jewelry studded with diamonds. They have an air of confidence that is normally associated with success.
Successful glamour models behave in the same fashion. They already know they are going to be rich and famous.
Hardly anything deters them in terms of working towards maintaining their beautiful looks and bodies. More often than not, they easily identify opportunities to express themselves existing in the network at any given time.
Art or Not?
There is little to discriminate between glamour seen through nudity or when appearing for a top fashion magazine.
Artistic flair is often personified by professionals who find the perfect angle for the model to pose with little or no clothing and still create the perfect look aimed to attract a definite audience.
Find The Power To Get Into Glamour Modeling
Chances of being a successful glamour model often depends on how much power is exerted by a woman in every photo shoot. Opportunities exist for a perfect fit.
Repetitiveness may work when trying to promote a brand. However, these models can just so easily change gear and pose for an altogether different product.
They have the power to understand needs of a project and carry it off with confidence and flair.
For instance, a nude model is comfortable with her or his body and has prepared well for photo shoots without clothing. It is just an extension of modeling to them.
They understand what is needed and find the best opportunities to pose in the nude or with minimum but tastefully worn attire.
Opportunities are Equal to Sound Preparation
Candidates often succeed in finding the perfect look for their body structure with a little bit of experience. It also brings in the confidence needed to carry off a project without inhibitions.
Besides experience, they begin to identify the glamour quotient in them appealing to more clients. It is then a matter of sustaining the right body structure and other attributes.
Practice by Shooting
Participating in different photo shoots becomes more of an exercise in excelling at what they do best.
Professional photographers actually find it easier to work with glamour models because they already know what is expected of them. The latest technology is then used to find the perfect look needed by the client.
Keep Aware of Trends
What is glamorous today may not have magnetic appeal tomorrow. However, more glamour modeling opportunities exist for candidates having more to offer in terms of personality rather than just looks.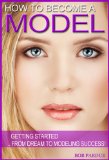 They easily blend into future designs and can easily recreate the precise look needed for an earlier endorsed product.
If you meet basic requirements, go ahead and make the initial thrust into the glamour area of modeling. It's not as difficult as it looks.
Want More Info?
If you want to find out more about different types of modeling, the you'll want to join my newsletter. Oh, and get a Free Gift when you sign up! Go Here To Sign Up >>
Filed under: Modeling Tips