Female Modeling Tips A New Look at How to Become a Female Model
Ready to find out how you can be a female model and work in the exciting entertainment network? These quick and easy female modeling tips are designed to get you started in the network.
So, You're Planning to Become a Female Fashion Model
Here is a quick peek to give you some idea of what it's really like to work with female modeling agencies and take your turn walking the runway, get on a fashion cover or just dream about any of these.
See the model requirements before you get started. Great for beginners.
Are you a teen or more mature woman who is ready to learn more about how to become a female model but not sure where to start?
This tutorial will give you some basic tips for beginners and I believe you'll find it very useful in starting your career.
Those truly successful female fashion models today should be admired for their hard work and their commitment to look beautiful.
But, think about it!! Instead of being admired, most models are criticized because of their weight or gorgeous looks.
Comments about these girls all taking drugs since they are so thin or having to face surgery because they are so gorgeous are often heard.
Sarah – Tall & Thin
Most women are forced into being this small size if they want to work in the modeling world of high fashion. Designers, who are only interested in selling their new line of clothing insist that their female models are tall, skinny, extremely photogenic and ravishing with an enticing look.
Build Self Confidence
You will also learn some really good modeling tips for teenagers in these lessons too as this is one of the biggest markets in fashion model management today.
Teenage girls are always looking at fashion magazines and dreaming of the day when they will learn how to walk the runway or grace the cover of a major magazine.
They rave about the awesome clothes, but yet they criticize the models. Does this mean they are jealous or have a low self esteem?
Face Your Problem Before Becoming a Model
With obesity being a major problem in the world today and the typical fashion model wearing a size 2, jealousy plays a major role of how many girls feel about other working female fashion models.
If you have an obesity problem and are dreaming of one day becoming a model, do something about it now.
Don't just sit back and criticize the fashion models, face your problem and follow your dream.
Make Talent Agency Contacts
If you have a true desire to get into the modeling business and are confident of your success, you might want to work with one of the many talent management companies online.
To get stared and maybe find local female modeling jobs, you can contact some modeling agencies on the Internet.
Just be careful and make sure they are legitimate before you send any photos or information. If the talent agent wants to meet you in person, NEVER GO ALONE!!!!
Are You the Next New Face?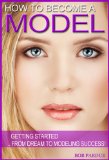 The industry is growing more and more everyday and they are always looking for new faces. So keep watching fashion runway shows and looking at magazines. I don't have to tell you to Study My Female Modeling Course … RIGHT?  🙂
Reach For The Stars and Good Luck in Your Female Model Career !!!
Till next time,
Bob Pardue
Filed under: Modeling Tips