Tips for Buying the Best Dance Skirts and Dresses
Go Dancing Tonight in Your New Fashion Wear
If you are a dancer or, if you just like to move, then this report about buying dance skirts and dresses will be helpful. Enjoy yourself tonight in your new fashion clothes! I was never in dance growing up, though I wanted to be very badly.
My mom didn't have the time to take me to class, or I would have taken ballet. I'm not sure I would have stuck with it for very long, but at that time, that was what I wanted to do.
I did go to a few classes, but because my mom was a single mom, she just couldn't keep up. I was disappointed, but I understood. Now that my own daughter is interested, I hope that I can sign her up soon.
I may soon be buying her a tutu, pointe shoes, and dance skirts. Though many start out with ballet, there are many other types of dance that children can get involved with.
They may try tap, jazz, modern, Irish, or even ballroom dancing. Some of these come with the best outfits, and many include dance skirts.
These are made to go with a costume and accentuation the motions and the movements of the dance. They are also made to be safe and to allow the full range of motion needed when dancing.
Though you may think many have a slit to show some leg, it's more about free range of motion for the dancer.
The Many Styles of Skirts and Dresses for Dancing
Dance skirts for the young are, of course, a bit more modest, but must still be suitable for dance and the range the body needs to attain.
What is worn in dance if often not something that most would wear anywhere else, but it is something that is essential to the art of motion and expression.
What most dancers get out of dance is deeply satisfying, and that means the costumes and the dance skirts are many times of little consequence. They just have to be right for the motion of the dance, and they should be something that looks good too.
When you go on the floor do you like to spin and maybe flirt a little? Maybe not but this will determine the best types of dance skirts for you.
And, it matters what type of dancing you are into, like ballroom for instance. When you strut out to the dancing arena you are following your passion to let yourself go and absorb the beat of the music with someone you like.
In order to give your best performance on the dance floor it helps to have the right attire. Many girls and women ask the question of what to wear when dancing.
Women's skirt fashions abound in these days of mega shopping so you will find the right skirts for your wardrobe this year.
Dancing Skirt Choices
Dance skirts are fashion necessities for females who are serious dancers and there are as many different styles are there are different types of dance routines.
Dress for Your Fashion Style
Finding the right products begins with finding the right style of dance skirts for the type of dancing you will do. Considering what type of routine interests you is a wonderful first step to finding the right fashion gear. Following are three typical types of costumes that go with three typical routines.
Ballroom Dance Skirt
Ballroom dancing is very popular right now and the costumes are just as appealing as the moves.
Famous dances include the foxtrot, tango and the waltz. These are just a few of the many forms of ballroom routines out there. Even though these dances are quite different, they do have certain elements in common.
Your Dance Dress or Skirt Should Flow When You Twirl
One of those elements is the beautiful dance wear that goes with the routines. You really want to look for dance skirts that have a lot of movement.
The skirt should twirl and flow with your motions. This will help create a marvelous presentation during your routine. These dresses and dance skirts are usually embellished with sequins or beading.
What about Belly Dancing?
The belly dance is a Middle Eastern routine that has been in practice for centuries. This routine calls for colorful dance skirts that have a scarf-like design. These costumes are adorned with lots of shiny accents and beading and they are come in a wide array of colors.
Ideally, the dance costumes used in the belly dance routines accentuate the woman's figure.
Swingtime Music and Dance
Swing dance includes old-time favorite routines like the Charleston and the Jitterbug. These fun-filled dancing routines are typically accompanied with fun dance skirts that twirl and move with swing.
The trumpet skirt is a favorite choice for many dancers while others prefer a cute sailor style outfit for Swing routines.
Make Sure Your Dancing Outfit or Costume Fits
While knowing the type of dancing routine you will perform is essential to finding the right dance costume there are other very important things to consider as well.
First and foremost, the dance skirts have to fit well. Correct fit is essential to getting a great look and comfort.
Many times, when you have to buy dance skirts, the company or organization you are with will ask you for money so they can get them on their own. Sometimes, this comes included in the cost of the program in which your child is enrolled.
If you need to go out and get them on your own, you may be a bit limited in where you can buy locally. In that case, one of your very best resources for dance skirts is going to be the Internet. Look around for what you need there, as most types of dance clothes can be found on the web.
Even those hard to find ones are rather easy to buy because the web gives you a world of options.
What about the Little Black Dress for Dancing and Other Uses?
Dressing nice is necessary for every woman today. Events like cocktail parties, nights at the club, dates with our boyfriend or husband, and even heading to the movies, you've got to look your best.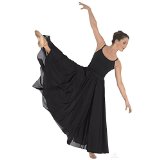 If you are a woman who has a busy schedule with little wardrobe space, getting a perfect little black dress could be the best solution no matter if you are dancing or going to the park.
This outfit is more than an all purpose dress; it's a gift! We all love to have loads of nice dresses, but sometimes when we find dance skirts for sale we've got to withhold our credit cards, and shoot for an all in one outfit.
Filed under: Fashion