Model Agency Tips: Discover How Contacting  Modeling Agencies Can Start Your Career!
This is yet another frequently asked question I get. In fact, I just received another one today wanting to know the right way of contacting modeling agencies so be sure and read today's tip.
Take all the steps to become a model and get listed with a model agency so that you'll have the opportunity you deserve.
Click Here to find modeling agencies near you ..
Don't Make Mistakes When Going to Model Agency Open Calls!
Many models believe they can just email a general sentence or two when contacting modeling agencies. They send something like; "Do you have openings for models?" Or maybe they write; "I want to be a model, please help me." or something to that effect.
Honey, this just will not work in most cases.
Truth is, there is no one way to make agency contacts. Here is a starting point to increase your chances of getting in the door.
First, go to the Bob Pardue model agency website for your state (or other area you want to research)..
Make a short list of agents who look interesting (I would look at ones who have a modeling agency website first). Then, either go to their site listed or call the model agency to find how they want to be contacted.
Most agencies' websites include a page called "how to contact us" or various other wording so it should be easy to find.
Model Agency Types
You'll find various kinds of agents in the modeling network.
Find out what kinds of models they represent (you can search this info on sites too in many cases).
Check out listings for fashion model management companies, agencies for beauty, swimwear, etc.
Explore other areas like promotional jobs and commercial modeling agencies. Remember to search out petite and plus size if you fit this model type.
Other possibilities and opportunities exist. Do your homework on this part.
Many of the best talent agencies reside in larger cities like Chicago or New York.
NYC is not the only town who hires models. You can discover nice paying local modeling jobs at first to see if you can go further in a career. Start off locally and it could possibly lead to something bigger.
Contact Model Agencies Through Open Calls
Some model and talent management companies have open call days listed on their sites where you just walk in for an interview while others require an appointment. Still others just want you to send a photo submission to be considered.
NOTE: It's very important to follow their directions for the best results.
Remember, do your research (other models can help tremendously), be prepared before you go, and follow all directions the agency requires.
Joining Agencies for Models
Every lady wants to be admired for their beauty. Take advantage of the many different opening positions in female model agencies. These companies allow women of all sizes and color to display their beauty in front of a camera.
There are important considerations to keep in mind. Be prepared when going for an interview with a modeling agency representative.
These tips are designed for those who are looking to have a professional career in the modeling world. Study them closely before entering an interview room.
Modeling Appearance & Presentation
Appearance to a model is everything, and presentation is key. When going for an interview, ensure that you are dressed to impress.
Represent your true beauty. Wear something that is not only conservative, but also able to highlight your best features.
Tight clothing is generally not recommended by many professional companies. Female models are encouraged to wear a nice skirt with a modest hemline, and a blouse or a shirt.
Other than wearing the appropriate type of clothing, it is also important to consider the amount of make-up that you are wearing.
Many of the modeling managers want to be able to see the true features of the model. They encourage models to either not wear any make-up at all or very little.
Make-up should be rather light. Don't overdo it.
Wear a small amount of concealer to hide any blemishes. Put on just a little bit of blush and mascara to highlight your best features. This will also still give some depth to the face.
Getting hired by female model agencies is not difficult as long as the model knows how to prepare herself.
Presentation really is key. It is important to put your best foot forward. This is true no matte what career you choose.
5 More Tips for Contacting Modeling Agencies
For girls and young women want to land a contract with the "big guys", it is important to know what model agencies want.
Of course, how you look plays a big part but there are other criteria that are just as important.
Additionally, locating a good agent should be a top priority to get you the best deal possible.
The following are some model agency tips for beginners who need advice on where to start.
1. Modeling Pictures
It is important to get a good portfolio of self-portraits from a good
2. Professional Model Photographer
Lighting and angles play a huge part in the photographs taken. The fashion industry has a love affair with slimmer girls. The way you come across in your photos is very  important.
Due to the fact that pictures are two dimensional, the body loses angles in photographs. Agents and photographers often talk about "knowing your angle" which means the woman subject must be photogenic.
3. Good Posture
Good posture is necessary because 70% of a career centers on runway.  If you do not have it, you can learn it.
4. Good self-esteem
This profession is really very hectic – women are exposed to a number of self-destructive influences, and in order to handle yourself, you should possess a resilient psychological makeup.
5. Posses certain physical traits
Female modeling agencies are typically looking for people that have certain abilities, looks and talent. You'll find some of these requirements here..
Other factors There are other factors that may be equally as important to getting in the modeling business and they are:
Ethnicity – This depends on the client and some companies look for a certain ethnic look (either Caucasian, African American, Asian, etc.)  that may be unique.  Some clients have a small target audience so they look for certain types of models.
Gender – This too is based on the client audience.  A magazine that caters to female models may look for only females in a certain age group (for instance; teenagers ages 13 to 19 yrs.) to display fashion etc. A client who needs male fashions displayed will look for a male model.
How do I Find Modeling Agencies to Contact?
Anyone will tell you that New York City is probably the #1 place for the network. Next in line are cities like Miami, Los Angeles and Chicago.  They compete to fill demands with that of the finest talent word-wide.
They will wholeheartedly invest in and individual who they feel has potential and get them ready for the market.
For those looking for local area model agents adhere to the following tips:
Check the yellow pages under Modeling Agencies.  If there is none in you, area check listing of the next largest city.
The Better Business Bureau may have information on some agencies.  Usually they will not be listed here because if the BBB has anything to do with them it's many times not positive.
Call the agency after hours-This may be a good method to find out legitimacy's as this type of business is not a typical 9 to 5 and the serious companies are open a lot longer.
Contacting Modeling Agencies – Getting Started
Practice your poses, runway walk, body language and expressions and then start contacting the talent management companies near you.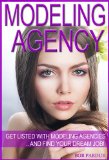 Or, you might want to start by contacting the top list agents like Ford or Elite in NYC to try and become a supermodel!
These model agency tips don't guarantee you'll get discovered but it will help get your face in front of the right people. Hope this FAQ and answer helps you to become a male or female model and get your dream job!
See you next time,
Bob Pardue
P.S. Want More Tips Like These? Join My Modeling Tips and Get Your Gift Here …
– – – – – – – –
ABOUT JOE
Joe Edelman is an award winning commercial photographer, lecturer and model mentor.
He is best known for his exquisite photographs of beautiful women.
In addition to his role as photographer, Joe is nationally recognized as an innovator in shaping models portfolios and careers.
Simply put he advises serious models (both new and experienced) about how to market themselves.
Joe is often used as a source for television stories as well as newspaper and magazine articles on the subject.
Author: JE Bright references Joe in his book: America's Next Top Model: Fierce Guide to Life: The Ultimate Source of Beauty, Fashion, and Model Behavior.
Joe's work is also referenced by author Rif K. Haffar in his book: Roadmap to Stardom: How to Break into Acting in Hollywood.
Filed under: Model Agency Tips