This is a really quick video as is the case with most of the Canon EOS Rebel T6i Digital SLR camera reviews so hold on. And, if you still need more info check the product page first. There are some pros and cons to this Canon DSLR camera so I'll try to list a few of each.
Watch the video and then you can make your own decision.
Learn More ..
First, I like the fact that this Canon comes with an EF-S 18-55mm IS STM Lens.
Also, it is Wi-Fi enabled giving you the freedom to shoot and upload.
But, the best part is the Canon T6i has a higher resolution sensor, and improved autofocus over the former model the Canon T5i, but with similar body design.
I believe for the money, the Canon Rebel T6i makes a fantastic gift for someone who wants to shoot amazing photos with the control of a DSLR camera.
With that said, I'm not crazy about the absence of continuous autofocus in live view, making the camera less flexible for moving subjects.
Other than that, it lives up to its Canon name and you should be happy with your photographs in most shooting conditions.
I would recommend this Canon T6i to give as a holiday gift or to put in your camera bag if you are serious about photography.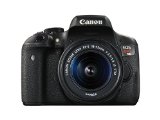 Okay then, now that you have learned more about the Canon Rebel T6i digital slr through this review you can check out all the details here. Thanks and keep your camera handy for models and other interesting subjects! – Bob Pardue
Filed under: Cameras