A Welcome to Beginner Female Fashion Models
It is absolutely no secret that teens and women of all ages aspire to be female fashion models.
Many just give up and reserve themselves to the fact that the hopes of finding a modeling agency is beyond their reach and entertainment is a competitive career, giving them a "reason" just simply give up.
I don't want you to go that route. There are things you can do to keep from quitting too early and pursuing your dream job in the world of fashion. Read on ..
Take an Exciting Journey Through the World of Beginner Fashion Modeling for Women
Don't do it yet!!
I have put together some modeling tips for beginners and advice for the female model to help you learn the trade and find an agency if you have the determination to begin a modeling career in fashion, commercial, runway or promotional work.
Read the Female Model Tips: Learn Female Modeling and Find an Agency
And, take time to bookmark this model site and send it to all your friends who are interested in what it takes to become a model. There is so much information here that I can't list all of it at once but I promise to be as honest and accurate as possible.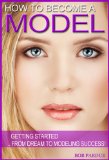 You will come away with some valuable advice on how to be a female model, getting portfolio, finding and contacting agencies for interviews and more – or, at least you will discover a starting point no matter if you are a teenager or older woman.
Have some fun and look through the modeling tips. Then, make your plan for a career!
Filed under: Modeling Tips