Get Started – Where to Begin as a Model
Taking the first steps to become a model is tough but it doesn't have to be difficult.
Beginners find that there is much more to learn about modeling and the types such as fashion, commercial and glamour, to name a few.
Look! Discover "Secret" Modeling Tips – FREE E-Course Here ..
Some Quick & Easy Tips for Beginners
8 Steps to Becoming a Female Fashion Model
Start-up Tips
Get started today in your career with these simple tips.
When most women think of starting out as a fashion or female glamour model, what comes to mind is usually summed up with their going straight to someone like Next model agency New York or starting at one of the many modeling schools and paying thousands of dollars to go to advertised conventions.
The Best Place?
One of the best places to start is right from your own home as you will see below. Here are eight simple steps to getting your thoughts together, turning your dreams into goals, and really going after the career you desire.
1. Start at the end
See an end result of where you want to go in modeling. You might want to be a superstar and walk the runway in Milan or a local commercial model. It doesn't matter. Just put a dream in your mind and be realistic.
2. Write it down
The next steps are where dreams become goals so write down your final vision at the top.
3. Obstacles
Write down all the obstacles that you will have to overcome to reach your goal
i.e…
What do you need to learn?
What looks do you need to practice for the type of modeling you are pursuing?
What could keep you from reaching your goal?
This is a good time to look at the attributes you need for certain modeling jobs.
Runway almost always requires height so if you are too short for runway look at other options like beauty, catalog or commercial.
4. Who to contact…
Talk to talent agencies and other working models to find someone to represent you (stay away from modeling schools and conventions).
5. Put a date on it
A goal is just a dream until you write down a completion date. Make a date for your overall goal.
6. Break it up into small pieces
Do you know how to eat an elephant? … One bite at a time.
Set small obtainable goals first and then increase them as your experience and confidence grows. For instance, most mega movie stars didn't start out that way. They took on bit parts, practiced, and then were prepared when a bigger part came along.
The same is true with modeling. Also write a completion date for these smaller modeling goals.
7. Write your goals in the present tense!
The mind is a powerful thing. It believes what you tell it so listen to your self talk.
If you keep saying to yourself that you can do this, you are way ahead.
Now, here are a couple of examples in writing down your modeling goals…
Example of a Large Goal:
"My goal is to become a working ____________ model by January 1st, 2010."
Examples of Small Goals:
"I will call two talent agencies and ask if they have open call by June 15th, 2008."
"I will find and call two working models who can help me toward my goal by June 15th, 2008."
8. Just do something!
When you get up everyday look at your goals and start a daily habit of practice, study, and making contacts. Before you know it there are model agencies out there who know you and will appreciate your determination.
In a search for fame and fortune, it's not who you know; it's who knows you! So, make yourself known to them.
Don't be pushy but keep in contact from time to time. Call or email your complete list of agents and then start again from the beginning. Add new contacts weekly and maybe someone will use your talents.
All in all I would place making and writing down goals as the number one step in becoming a model. So, do this first.
Write it down!
Put a date on it!
Write down the obstacles!
Name the persons needed to help achieve your goals!
Read them first thing every morning!
Do something today!
That's it! Accomplishing goals in life is not always easy but it can be made more simple by following these steps.
Get More Tips and Learn to Model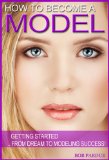 If you need more help in getting started, these modeling tips are fantastic! You'll learn about getting started as a model, types and requirements, contacting model agencies for jobs and more.
Get on the list today to get going! Oh, and I respect your privacy. To join and get your first issue, GO HERE NOW >>>
One final thought…
As soon as you accomplish a goal toward beginning as a model, write down another immediately!! This will keep your momentum going and push you further toward your modeling career.
– Bob Pardue
Filed under: Modeling Tips