Become a Fitness Model & Take Control
Read these interesting tips for how to become a fitness model no matter if you just want to put your body in shape or get into the entertainment industry.
These tips will cover some information about healthy men & women and what's required to get in good with the fitness modeling agents, etc.
Learn How to Become a Model – Go Here!
How to Become One of Those Women Modeling in Swimsuits
If you are a female you most likely want to look great and have that shapely figure you see on television and in the ads in print.
If so, you might be interested in becoming one of those sexy people posing in swimsuits or maybe even make the cover of Sports Illustrated magazine!
Achieving That Critical Mass
Physical fitness is important in any type of male or female talent but, how do you get local jobs and work in the industry?
This tutorial for models is just for you if you are interested in the world of body building or, if you just want to get in shape for that new bikini this summer. So, to be that picture of the perfect body, read more ..
Not for Everyone
Although this is the dream of many girls, few ever take the steps to jump into the profession of swim wear or sports related display. Either they do not have the hard body needed or the tenacity to do the daily bodybuilding techniques to make it happen.
They say things like "Maybe I'll learn to model soon." or "I'll get started tomorrow." As a professional female photographer, I can assure you this doesn't work!
The women who make it and discover they can do it, or at least get local industry jobs are the one's with daily and yearly goals.
They have benchmarks to meet every day in order to get those sexy abs or toned legs so they are in the right position when the opportunity arises.
These are the people who become professionals, become Hawaiian Tropic girls or grace the cover of Victoria's Secret catalogs.
Personal Trainers
One way to get in shape for glamour or figure assignments is to hire a personal trainer to help meet your physical requirements. This is what these people do.
They are committed to helping those of us who may not have the spunk to get up every morning and go through a workout routine. If you can afford it, this is a first choice for those persons interested in showing off their muscles in bikinis.
I know this decision is not possible for everyone but the second choice is to at least join a gym with a training program in place. This takes more personal commitment but can work just the same.
Diets
There is another half to getting in shape and that is starting a healthy diet and living a better lifestyle. You'll need to psych yourself up for this routine for it to work. On the mornings you "just don't feel like exercising" do it anyhow. Your career is not built by taking the easy road.
Effort Is Required
Learning how to be a female or male fitness model will require some work on your part. Take time for your commitment. Write down your schedule and follow it to the minute. The guys and girls I've photographed have schedules for fun and work.
Don't forget to relax during your off time but, if you are serious to get listed with agencies for health related products, work during the time you've set aside for your bodybuilding goals.
If you are a woman with children, find a baby sitter for workout times if necessary so your time is well spent.
Inspirational Conclusion
These tips for women are not going to insure your success but following a dream for artistic, figure and some commercial work requires that you have a curvy and muscular body to go with your pretty face.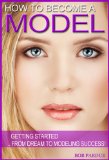 Remember, your competition will be working just as hard as you, some even harder so get your body in shape before applying to local or top list agencies and you'll be more likely to see good results.
Want to Learn More?
To get started with your goals, be sure to join my modeling tips newsletter here ..
Till next time!
Bob
About the fitness modeling video. …
Source:  http://howgainmuscle.org/go/FullBodyLicious
Either you already have a fitness model worthy body, or your looking to get one, I've listed a few valuable tips for those entering the female fitness model world. Becoming a model is challenging enough as it is, especially in the world of fitness.
If you're looking to become a female fitness model, or you simply want to look like one, you have to accept that it is going to be a lot of work. You have to achieve a high standard of fitness that needs to be maintained. If you're still interested, read on.
When you are starting out with a less than stellar body, prepare yourself for a lot of work ahead. You will need to get into great shape, and you need a find a program that will get your there quickly.
If you don't have a lot of money right now, finding a personal trainer may or may not be an option for you. There are a few programs on the market, but the best one is Fitness Model Program, developed by world renown fitness model Jennifer Nicole Lee.
This program will help you to achieve a trim, strong look in active and swim wear. Two of the most important categorizes.
What you have to keep in mind, is that becoming a fitness model is different than becoming a muscle model. You will need to focus on becoming strong, and trim without bulking up. Your look needs to be pretty and feminine, allowing some body fat will help you to achieve this look.
Filed under: Modeling Tips