FYI: What do the cosmetic experts offer in the way of beauty makeup tips and how do they affect your looks?
The information in the article below comes straight from well-informed makeup artists with special knowledge about cosmetics.
To find more about how to look better, take a look below and read this beauty advice.
Want to be More Beautiful? – Wear Less Makeup!
Does Beauty Makup Matter? Find Out with These Cosmetic Tips
Do you have to become a trained makeup artist to look great?
Some women and especially model MUA's believe that applying makeup is a true art. Why do you think they call themselves makeup artists? The name implies that applying makeup requires some talent which is absolutely true.
Although it is helpful to be talented in the art of makeup application, especially as in my field where models are using cosmetics for the camera, there are beauty make up tips that can help you achieve the perfect look. These looks work for day or night with little or no natural talent required.
There are many fine stores where you can find excellent beauty products so finding a good makeup for your face or body is not the challenge. However, skin care at home sometimes can be.
So, learn all you can about cosmetics and study eye makeup tips along with lips and other parts of your body you want to enhance and you will be much happier with your appearance.
Personality and Cosmetics
Learning how to choose which beauty make up tips are best for you depends on a few factors.
The first thing that you want to consider is your overall personality. No matter how well you are able to apply makeup it just won't look right if you are not true to yourself.
To thine own makeup be true
Applying makeup in a way that isn't true to your nature should be reserved for Halloween. First and foremost, the most valuable beauty make up tip is to be comfortable with yourself.
Choosing looks that work with your features is the beginning to the right path in your daily makeup routine.
What is the reason for your make up?
Next, you want to consider approaches to makeup application that are suitable to the situation.
You might look fantastic with the extra long lashes and full, red lips but you might want to tone things down if you are going to an afternoon barbecue. Balance your personality with the occasion and you are well on your way.
Less is more – Don't over-fix your face!
Make sure that you try the "less is more" approach during the daytime but you can be a little more adventurous in the evening. Don't forget that some ladies can get away with wearing next to nothing. One beauty make up tip is to take advantage of this if you have the face for it.
A Side Tip: Always remember that life is challenging and stressful enough as it is but if you don't take some time to pamper yourself a little bit the stressfulness of the daily routine can build up.
You may use every single beauty makeup tip included here but do not be surprised if you find yourself recalling and using this very information the next time you look in the mirror to fix your face.
Begin with facial make up
Beauty make up artists for models always begin face first. This is a great approach because you can take care of uneven skin tone and blemishes right off the bat.
Taking care of your delicate under-eye area is part of this process. Many ladies might find that they really need to do little more than apply a concealing product and a little foundation.
Oh-mi-gosh – Those eyes! Miss the eye makeup and you miss the boat!
Next, the eyes have it. If you are going to put a lot of emphasis on your eyes then you want to leave your lips subtle. This is one beauty make up tip that seems to go overlooked.
Choose eye colors that work for you. What looks fantastic on the eyes your friend might look horrible when you try it. Eye powder colors should be compared with your skin tone, skin moisture level, hair color, the shape of your face, and eye color. Coordinate your best colors with your outfit.
Dazzle 'Em with your make up? Not always
While you want to blow your friends away with your outrageous makeup for a special occasions you might be going overboard if you emphasize the eyes as well as the lips.
I normally tell my models; "Wear makeup as if you don't want anyone to know you are wearing any.". This is the most important beauty make up tip I have ever given to any of the girls.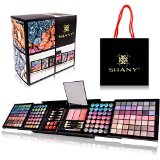 This article highlighting beauty makeup tips and facial enhancement is fun to read.
I hope you will take some of these cosmetic ideas to heart and use them when applying makeup to your face.
Then you'll be glad you took these few moments to learn more about how to be pretty every single day!
Filed under: Beauty