There are Secrets to Be Almost Any Type of Model and Now You'll Have Them!
In this quick lesson, I'm sharing a video by Fiona giving you some valuable tips to help you be a model (or at least become a better one) so I hope you'll take some notes, bookmark this page right now and make this the day you strive to reach your dream.
Want to be a female model? Learn some free tips – read more …
Fiona Teaches Modeling Skills for Females
Just Beginning? Learn How to Be an International Female Model and More!

"This week we have shot with FIONA a model that has just recently became an international model. During this shoot she thanks Mark Headley for helping her become a model …"
Watch & Learn Video
Who says you have to listen to find out how professionals do it?
One way is to watch Fiona do her best in a photo shoot.
Now, does this really teach you how to be an international high fashion model?
I don't think so but hopefully it will enlighten you for having more confidence in your posing style and expressions, not to mention how some of the outfits move into the photos.
The Photo Shoot
Were you inspired by this beautiful female modeling photo session? If this video moved you in some way please leave your comments below.
Many guys and girls dream of getting into the fashion or commercial modeling network
but just never seem to get their dream off the ground.
I don't want to see you in this position. My dream for you is to at least make a real effort so that you can say; "I did my best.". That's all I ask of you in return for working to make these tips successful.
Start Out by Learning Some Simple Quick-Start Tips
I know you have stars in your eyes and you've been watching America's Next Top Model but there is much to learn about teen modeling before you begin a career.
Read these modeling tips and get a head start on the other girls and guys in the entertainment or fashion industry.
A modeling assignment can be very strenuous and demanding. It is only to be expected that competitiveness will be very high. You also need to sustain a high level of professionalism, health and fitness to find work in this competitive industry.
Find A Niche For Yourself:
The general category you fit into has to be identified before you approach a modeling agency. It is quite easy to do so. For example, a girl promoting fashion wear for teens also has to be a teenager.
Similarly, plus size clothes will be promoted by larger size models.
You may have apprehensions about walking the ramp in your first year of modeling.
Simply choose to work in print or the commercial field and meet the requirements needed.
Maintain A Baby Complexion:
Skin exposed to the sun takes a beating everyday affecting texture. This is especially beneficial for girls interested in the business. Care has to be taken to protect against ultraviolet rays and atmospheric impurities.
People with drying, leathery skin have very little chance of getting into the modeling world.
A happy and healthy skin is much appreciated and will get you good modeling assignments, especially at the start of your career.
Learning how to become a model becomes easier when essentials of beauty care are mastered before entering the field of modeling.
Join The Best Local Management Agency: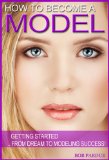 To get ahead of the crowd start and avoid mistakes, it is always better to join an agency based locally in your area. Local outlets are usually started by professionals with tons of experience.
The final stage to be a model is up to you. There is no exception to taking action to start your modeling career so the next step is to make a plan, follow it daily, and most importantly, don't quit too soon! Happy modelling!! – Bob Pardue
Filed under: Modeling Tips